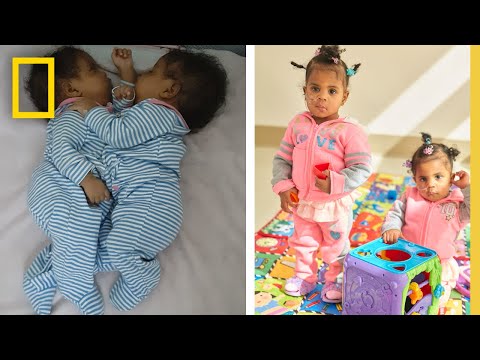 Alusine and Isatu Jalloh traveled 4,300 miles from home to give their conjoined twin girls the chance for a better life. Just days before the COVID-19 pandemic hit New York City, a team of 30 leading surgeons and specialists at NewYork-Presbyterian Morgan Stanley Children's Hospital successfully separated them in a nine-hour surgery. Watch their remarkable story.
➡ Subscribe:
http://bit.ly/NatGeoSubscribe
#NationalGeographic
About National Geographic:
National Geographic is the world's premium destination for science, exploration, and adventure. Through their world-class scientists, photographers, journalists, and filmmakers, Nat Geo gets you closer to the stories that matter and past the edge of what's possible.
Get More National Geographic:
Official Site:
http://bit.ly/NatGeoOfficialSite
Facebook:
http://bit.ly/FBNatGeo
Twitter:
http://bit.ly/NatGeoTwitter
Instagram:
http://bit.ly/NatGeoInsta
TikTok:
http://www.tiktok.com/
@natgeo
Tenor:
http://on.natgeo.com/31b3Koc
Conjoined Twins Separated | National Geographic
https://youtu.be/eIoPEz8ohho
National Geographic
https://www.youtube.com/natgeo
via Travels.Tube - Your travel video feed source!