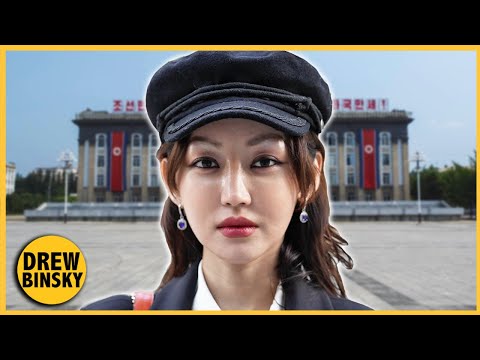 ✅ SUBSCRIBE for more travel videos:
http://bit.ly/2hyQnZ1
📝 Get My Best Flight Hacks FREE!
https://bit.ly/32sVpQV
Prepare yourselves to hear the story of Yeonmi Park because it's heavy.
When she was a teenager, Yeonmi escaped from North Korea to China. What she experienced was horrible — being sold as a sex slave by border officials, walking across Mongolia in the middle of winter and nearly dying of starvation.
But Yeonmi made it out alive, and now she lives happily in Chicago. She is outspoken about the terrible regime in North Korea and she voices her thoughts on her YouTube Channel, and through various best selling books. I invite you to share your opinions about Yeonmi's story and about North Korea in general in the comments below.
Hope you had a very Merry Christmas and remember that freedom is not always free.
I'll see you in the next year when I'm kicking off my Saudi Arabia videos!!!
Follow @Drew Binsky for more stories from EVERY country, and join me on
https://instagram.com/drewbinsky
👕 Thank you for making these travel videos possible by supporting my clothing brand, JUST GO 🌎:
https://shopjustgo.com/
📱 TEXT ME, I will respond! +1 310 349 3854
✈️ BOOK your next trip here:
https://travel.drewbinsky.com/
👫 JOIN over 65,000 people in my FB travel community!
https://bit.ly/3uomRZb
FIND ME ON SOCIAL MEDIA:
► IG:
https://www.instagram.com/drewbinsky/
► FB:
https://www.facebook.com/drewbinsky/
► Tik Tok:
https://www.tiktok.com/
@drewbinsky
👨🏻‍🦰 WHO AM I?
I'm Drew Binsky and I have been to EVERY Country in the world (197/197). I make travel videos about people, culture and anything else I find interesting on the road. My ultimate goal is to inspire you to travel far and wide, because I think that traveling is the best education that you can get, and our planet is beautiful!
How I find music for my Videos:
- Tom Fox is a legendary musical artist:
https://tfbeats.com/
- Musicbed: Elevate your videos with record-label quality music:
http://share.mscbd.fm/drewbinsky
- Epidemic Sound - incredible royalty free music, free 30 day trial here:
http://share.epidemicsound.com/drew
MOST POPULAR YOUTUBE VIDEOS:
► He Is The Ice Man:
http://y2u.be/VF8dkjEdKNo
► Tallest Humans on Earth:
http://y2u.be/u03kNQNclGY
► Why is Everything Free in Pakistan?:
http://y2u.be/CWeWxl7ruGE
► 3 Things You Can't Do in North Korea:
http://y2u.be/mNsx0Nqryos
► World's Strangest City:
http://y2u.be/hmIa2SGpm6s
🙏 GET IN TOUCH!
► Website:
https://www.drewbinsky.com/
► Email: business@drewbinsky.com
► Text: +1 310 349 3854
via Travels.Tube - Your travel video feed source!