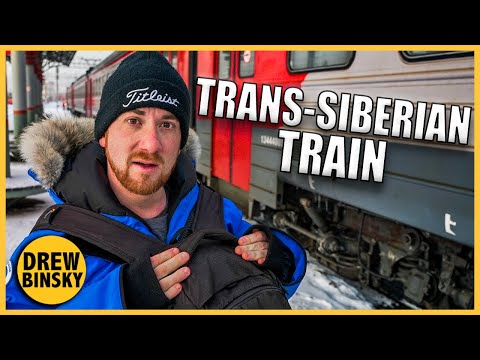 📲 My JUST GO APP is here! Connect w/ like-minded travelers for free:
https://apple.co/3vYPr75
✅ SUBSCRIBE for more travel videos:
http://bit.ly/2hyQnZ1
This video was shot 4 weeks before Russia invaded Ukraine. I am devastated by what is happening and my thoughts and prayers go out to the victims of this war. If you want to help, my friends @Yes Theoryare currently in Poland and have started a GoFundMe to help Ukrainian refugees with food, water, and necessities. They have already raised $500,000, and 100% of proceeds are going directly to help save lives: Donate here:
https://bit.ly/3N5jQGJ
Okay, now onto the description of the video... Riding on the Trans-Siberian Train has been a bucket list adventure for me for as long as I can remember (8 years?). The train starts in Moscow and then travels 10,000 kilometers Eastbound across Siberia until it ends in Vladivostok. I was lucky enough to catch Trans-Siberian train for a 30-hour leg – from Irkutsk to Novosibirsk – and it was one of the wildest travel experiences of my life. Even in the middle of winter, where temperatures were around -30C, I couldn't believe how scenic the views were out the window. It felt like a dream!
On the Trans-Siberian train, I met two incredible characters – Gregory (the train conductor) and Sacha (the drunk passenger) who I shared the entire experience with. I will never forget this train ride. It was the journey of a lifetime, and I can't wait to (hopefully) finish the rest of the adventure someday soon. Siberia is truly a remarkable place. Thank you for watching.
Follow @Drew Binsky for more stories from EVERY country, and join me on
https://instagram.com/drewbinsky
👕 Thank you for making these travel videos possible by supporting my clothing brand, JUST GO 🌎:
https://shopjustgo.com/
✈️ BOOK your next trip here:
https://travel.drewbinsky.com/
👫 JOIN over 65,000 people in my FB travel community!
https://bit.ly/3uomRZb
FIND ME ON SOCIAL MEDIA:
► IG:
https://www.instagram.com/drewbinsky/
► FB:
https://www.facebook.com/drewbinsky/
► Tik Tok:
https://www.tiktok.com/
@drewbinsky
👨🏻‍🦰 WHO AM I?
I'm Drew Binsky and I have been to EVERY Country in the world (197/197). I make travel videos about people, culture and anything else I find interesting on the road. My ultimate goal is to inspire you to travel far and wide, because I think that traveling is the best education that you can get, and our planet is beautiful!
How I find music for my Videos:
- Tom Fox is a legendary musical artist:
https://tfbeats.com/
- Take your films to the next level w/ music from Musidbed:
http://share.mscbd.fm/drewbinsky
MOST POPULAR YOUTUBE VIDEOS:
► He Is The Ice Man:
http://y2u.be/VF8dkjEdKNo
► Tallest Humans on Earth:
http://y2u.be/u03kNQNclGY
► Why is Everything Free in Pakistan?:
http://y2u.be/CWeWxl7ruGE
► 3 Things You Can't Do in North Korea:
http://y2u.be/mNsx0Nqryos
► World's Strangest City:
http://y2u.be/hmIa2SGpm6s
🙏 GET IN TOUCH!
► Website:
https://www.drewbinsky.com/
► Email: business@drewbinsky.com
*Some of the links or other products that appear on this video are from companies which I earn an affiliate commission or referral bonus at no additional cost to you. All opinions are my own. The content in this video is accurate as of the posting date. Some of the offers mentioned may no longer be available.
via Travels.Tube - Your travel video feed source!