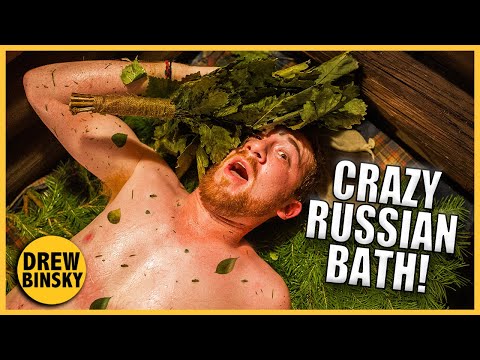 📲 My JUST GO APP is here! Connect w/ like-minded travelers for free:
https://apple.co/3vYPr75
✅ SUBSCRIBE for more travel videos:
https://bit.ly/3iAZlnw
This is the final video in my Russia (Siberia) series, and I think it's the most entertaining! In the city of Novosibirsk, I walked into a traditional Russian bathhouse (called a banya), and I was greeted by a giant man named Herman. Herman ordered me to take off all my clothes and enter a 160-degree sauna (70C). I was then beaten by thorny Russian birch trees as well as a thick wooden stick. Then, I went outside to get an ice-cold bucket of water was poured on my head.
The Russian banya experience took me back to the time when I did a Turkish bath, but this one was more intense! I absolutely love doing these activities - it's the reason why I love traveling - to experience new cultures and learn about how other people spend their days. And truth be told, I felt very clean and relaxed after this bath — despite the pain that I went through!
ANNOUNCEMENT! I am really excited to share that my JUST GO APP is officially out for FREE on iPhone and android - and we already have 15,000 members! JUST GO is an intimate place where you can connect, make new travel friends, join real-life meetups, and get inspired to travel! I launched my JUST GO community with Mighty Networks, an incredible all-in-one platform for community building (really, they are the BEST!) You can learn more about Mighty Networks on this link:
https://www.mightynetworks.com/?via=drew
Lastly, I want to thank you for tuning into the last 5 weeks of stories in Russia/Siberia. All content was filmed a month before Russia invaded Ukraine, so it comes with a very heavy heart. I decided to share these videos because I strongly believe that the Russian people are NOT a representation on their crazy, evil dictator. Please keep our friends and loved ones in Ukraine in your thoughts. It is absolutely horrible what they are going through, and I hope that this war ends soon. Thanks for watching.
Follow @Drew Binsky for more stories from EVERY country, and join me on
https://instagram.com/drewbinsky
👕 Thank you for making these travel videos possible by supporting my clothing brand, JUST GO 🌎:
https://shopjustgo.com/
✈️ BOOK your next trip here:
https://travel.drewbinsky.com/
👫 JOIN over 65,000 people in my FB travel community!
https://bit.ly/3uomRZb
FIND ME ON SOCIAL MEDIA:
► IG:
https://www.instagram.com/drewbinsky/
► FB:
https://www.facebook.com/drewbinsky/
► Tik Tok:
https://www.tiktok.com/
@drewbinsky
👨🏻‍🦰 WHO AM I?
I'm Drew Binsky and I have been to EVERY Country in the world (197/197). I make travel videos about people, culture and anything else I find interesting on the road. My ultimate goal is to inspire you to travel far and wide, because I think that traveling is the best education that you can get, and our planet is beautiful!
How I find music for my Videos:
- Tom Fox is a legendary musical artist:
https://tfbeats.com/
- Take your films to the next level w/ music from Musidbed:
http://share.mscbd.fm/drewbinsky
MOST POPULAR YOUTUBE VIDEOS:
► He Is The Ice Man:
http://y2u.be/VF8dkjEdKNo
► Tallest Humans on Earth:
http://y2u.be/u03kNQNclGY
► Why is Everything Free in Pakistan?:
http://y2u.be/CWeWxl7ruGE
► 3 Things You Can't Do in North Korea:
http://y2u.be/mNsx0Nqryos
► World's Strangest City:
http://y2u.be/hmIa2SGpm6s
🙏 GET IN TOUCH!
► Website:
https://www.drewbinsky.com/
► Email: business@drewbinsky.com
*Some of the links or other products that appear on this video are from companies which I earn an affiliate commission or referral bonus at no additional cost to you. All opinions are my own. The content in this video is accurate as of the posting date. Some of the offers mentioned may no longer be available.
via Travels.Tube - Your travel video feed source!