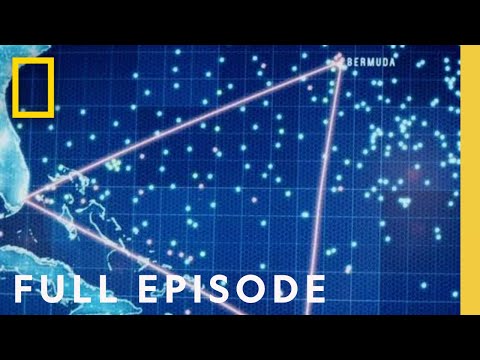 The Bermuda Triangle: Everybody's heard about this stretch of cursed ocean off America's eastern coast where ships and aircraft disappear without explanation. Or do they? Sam dives into the origin of the curse of the Bermuda Triangle and looks to oceanographers, physicists and probability analysts to get to the sandy wet bottom of this age-old ocean mystery.
➡ Subscribe:
http://bit.ly/NatGeoSubscribe
➡ Get more Nat Geo Full Episodes:
https://youtube.com/playlist?list=PLivjPDlt6ApSiD2mk9Ngp-5dZ9CDDn72O
➡ Get more Nat Geo Wild Full Episodes:
https://youtu.be/qAG2SkTPltw
And check out more National Geographic series and specials here:
➡ Disney Plus:
https://www.disneyplus.com
➡ Hulu:
https://www.hulu.com/welcome
➡ NGTV app:
https://www.nationalgeographic.com/tv/
➡ ABC app:
https://abc.com/
About Atlas of Cursed Places:
Author and adventurer Sam Sheridan explores the Earth's most iconic cursed places, searching for the point where modern science and myth intersect.
#BermudaTriangle #AtlasOfCursedPlaces #NationalGeographic
Get More National Geographic:
Official Site:
http://bit.ly/NatGeoOfficialSite
Facebook:
http://bit.ly/FBNatGeo
Twitter:
http://bit.ly/NatGeoTwitter
Instagram:
http://bit.ly/NatGeoInsta
TikTok:
http://www.tiktok.com/
@natgeo
Tenor:
http://on.natgeo.com/31b3Koc
About National Geographic:
National Geographic is the world's premium destination for science, exploration, and adventure. Through their world-class scientists, photographers, journalists, and filmmakers, Nat Geo gets you closer to the stories that matter and past the edge of what's possible.
The Curse of the Bermuda Triangle (Full Episode) | Atlas of Cursed Places
https://youtu.be/plalHGHwSj8
National Geographic
https://www.youtube.com/natgeo
via Travels.Tube - Your travel video feed source!