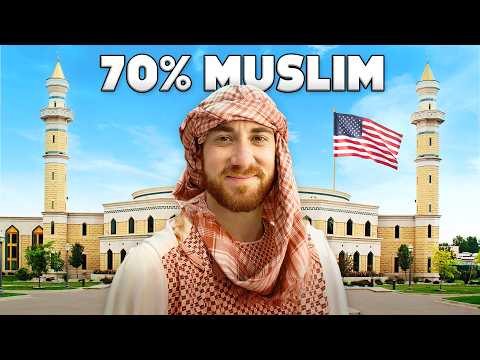 🌏 Get Exclusive NordVPN deal ➼
https://nordvpn.com/drewbinsky
w/ coupon code 'drewbinsky'
✅ SUBSCRIBE for more travel videos:
https://bit.ly/3iAZlnw
Ever since I heard that Hamtramck, Michigan is America's ONLY Muslim-majority town, I knew that I had to visit (because I love Islam!!) And it turned out to be one of the most incredible experiences that I've had within my own country, the United States of America.
My friend @Jessica Kobeissi took me around her stomping grounds to introduce me to the culture that she grew up in, and I was completely amazed. So many Lebanese, Iraqis, Yemenis, Bangladeshis, Somalis, Syrians (etc) all living together in this suburban Michigan town called Hamtramck, along with nearby Dearborn.
I went during the very first day of Ramadan - the holiest month in Islam - and I even participated in the fast myself. Watch until the end to see is breaking the fast (or iftar) at Jessica's friend's house.
The moral of this story is that America is SO BIG and SO DIVERSE, and there are many micro-communities to be discovered. Would you like to see more stories about the different communities in the USA? Please comment below and let me know - your feedback is so valuable to me. Thank you, and Ramadan Kareem to all who celebrate ❤️
Follow @Drew Binsky for more stories from EVERY country, and join me on
https://instagram.com/drewbinsky
👕 Thank you for making these travel videos possible by supporting my clothing brand, JUST GO 🌎:
https://shopjustgo.com/
👫 JOIN over 30,000 people in our JUST GO APP!
https://bit.ly/3iAZlnw
✈️ BOOK your next trip here:
https://travel.drewbinsky.com/
FIND ME ON SOCIAL MEDIA:
► IG:
https://www.instagram.com/drewbinsky/
► FB:
https://www.facebook.com/drewbinsky/
► Tik Tok:
https://www.tiktok.com/
@drewbinsky
👨🏻‍🦰 WHO AM I?
I'm Drew Binsky and I have been to EVERY Country in the world (197/197). I make travel videos about people, culture, and anything else I find interesting on the road. My ultimate goal is to inspire you to travel far and wide because I think that traveling is the best education that you can get, and our planet is beautiful!
How I find music for my Videos:
- Tom Fox is a legendary musical artist:
https://tfbeats.com/
- Take your films to the next level w/ music from Musidbed:
http://share.mscbd.fm/drewbinsky
MOST POPULAR YOUTUBE VIDEOS:
► He Is The Ice Man:
http://y2u.be/VF8dkjEdKNo
► Tallest Humans on Earth:
http://y2u.be/u03kNQNclGY
► Why is Everything Free in Pakistan?:
http://y2u.be/CWeWxl7ruGE
► 3 Things You Can't Do in North Korea:
http://y2u.be/mNsx0Nqryos
► World's Strangest City:
http://y2u.be/hmIa2SGpm6s
🙏 GET IN TOUCH!
► Website:
https://www.drewbinsky.com/
► Email: business@drewbinsky.com
*Some of the links or other products that appear on this video are from companies which I earn an affiliate commission or referral bonus at no additional cost to you. All opinions are my own. The content in this video is accurate as of the posting date. Some of the offers mentioned may no longer be available.
via Travels.Tube - Your travel video feed source!