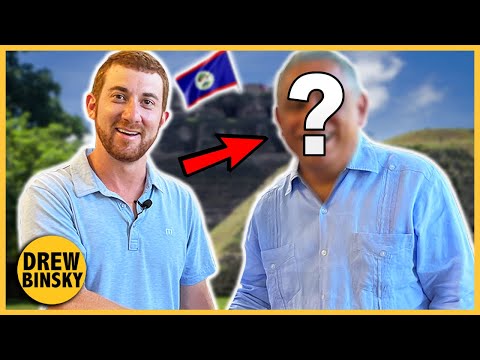 Win a Free RT flight to meet me around the world by downloading Momento:
https://bit.ly/3NGHwRO.
And join their Discord!
https://discord.gg/fkPmHEqvrf
WOW GUYS! I can't believe that I successfully met my 2nd President/Head of State - Mr. Johnny Briceño of Belize - a beautiful country in Central America.
Let's just say that it was not an easy journey to get here. My flight was delayed by 4 hours, so I had to cancel my initial meeting with Mr. President. And then it almost didn't happen the next day because his schedule was so hectic...
So in between the anxiety of planning the meeting - I rented a car and explored all over this stunning tropical nation. Belize really caught me by surprise!!
PS - Is anyone still reading this? I'm not sure if people read captions anymore or not. But I just want to personally thank you for being here with me. The life of a YouTuber can be stressful and demanding, but I'm trying my best to continue producing high-quality, inspiring, and educational stories. This summer I'll be taking you through Italy, Switzerland, Turkey, Denmark, Czech, Kuwait and Taiwan, just to name a few. I love you all, and don't forget to download Momento and join their discord if you want to win a free RT plane ticket to meet me somewhere in the world!
Follow @Drew Binsky for more stories from EVERY country, and join me on
https://instagram.com/drewbinsky
Momento's Website:
https://www.momentonft.com
👕 Thank you for making these travel videos possible by supporting my clothing brand, JUST GO 🌎:
https://shopjustgo.com/
👫 JOIN over 30,000 people in our JUST GO APP!
https://bit.ly/3iAZlnw
✈️ BOOK your next trip here:
https://travel.drewbinsky.com/
FIND ME ON SOCIAL MEDIA:
► IG:
https://www.instagram.com/drewbinsky/
► FB:
https://www.facebook.com/drewbinsky/
► Tik Tok:
https://www.tiktok.com/
@drewbinsky
👨🏻‍🦰 WHO AM I?
I'm Drew Binsky and I have been to EVERY Country in the world (197/197). I make travel videos about people, culture, and anything else I find interesting on the road. My ultimate goal is to inspire you to travel far and wide because I think that traveling is the best education that you can get, and our planet is beautiful!
How I find music for my Videos:
- Tom Fox is a legendary musical artist:
https://tfbeats.com/
- Take your films to the next level w/ music from Musidbed:
http://share.mscbd.fm/drewbinsky
MOST POPULAR YOUTUBE VIDEOS:
► He Is The Ice Man:
http://y2u.be/VF8dkjEdKNo
► Tallest Humans on Earth:
http://y2u.be/u03kNQNclGY
► Why is Everything Free in Pakistan?:
http://y2u.be/CWeWxl7ruGE
► 3 Things You Can't Do in North Korea:
http://y2u.be/mNsx0Nqryos
► World's Strangest City:
http://y2u.be/hmIa2SGpm6s
🙏 GET IN TOUCH!
► Website:
https://www.drewbinsky.com/
► Email: business@drewbinsky.com
*Some of the links or other products that appear on this video are from companies which I earn an affiliate commission or referral bonus at no additional cost to you. All opinions are my own. The content in this video is accurate as of the posting date. Some of the offers mentioned may no longer be available.
via Travels.Tube - Your travel video feed source!