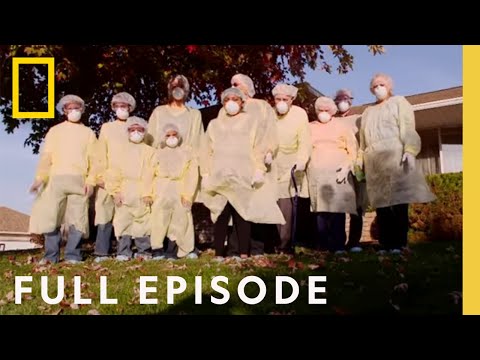 We meet three Americans who are making huge personal sacrifices to prepare for the end of the world as we know it. Former police officer Martin Colvill is a mobile prepper, who keeps all his supplies in the cab of his big rig truck. Utah grandmother Donna Nash is preparing to quarantine her loved ones in the event of a deadly pandemic, and Kevin O'Brien is uprooting his entire family to save them from the polar shift he believes will sink Florida.
➡ Subscribe:
http://bit.ly/NatGeoSubscribe
➡ Get more Nat Geo Full Episodes:
https://youtube.com/playlist?list=PLivjPDlt6ApSiD2mk9Ngp-5dZ9CDDn72O
➡ Get more Nat Geo Wild Full Episodes:
https://youtu.be/qAG2SkTPltw
And check out more National Geographic series and specials here:
➡ Disney Plus:
https://www.disneyplus.com
➡ Hulu:
https://www.hulu.com/welcome
➡ NGTV app:
https://www.nationalgeographic.com/tv/
➡ ABC app:
https://abc.com/
#FullEpisode #DoomsdayPreppers #NationalGeographic
Get More National Geographic:
Official Site:
http://bit.ly/NatGeoOfficialSite
Facebook:
http://bit.ly/FBNatGeo
Twitter:
http://bit.ly/NatGeoTwitter
Instagram:
http://bit.ly/NatGeoInsta
TikTok:
http://www.tiktok.com/
@natgeo
Tenor:
http://on.natgeo.com/31b3Koc
About National Geographic:
National Geographic is the world's premium destination for science, exploration, and adventure. Through their world-class scientists, photographers, journalists, and filmmakers, Nat Geo gets you closer to the stories that matter and past the edge of what's possible.
It's All Gonna Hit the Fan (Full Episode) | Doomsday Preppers
https://youtu.be/pW8HeVqF20M
National Geographic
https://www.youtube.com/natgeo
via Travels.Tube - Your travel video feed source!