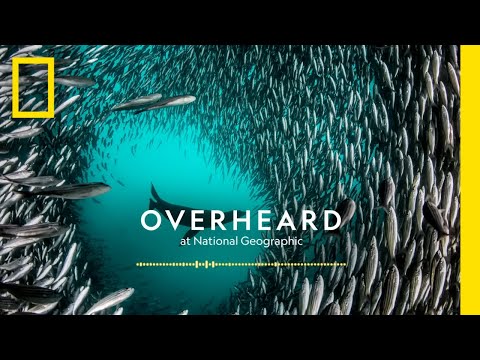 National Geographic Explorer in Residence Enric Sala quit academia to explore and protect the sea. On his journey to keep the ocean pristine, he has swam with jellyfish in Palau, gone diving in the Arctic, and got acquainted with sharks at Millennium Atoll. Sala's explorations have led to 24 marine preserves—with a combined area more than twice the size of India. But the hard work is far from over, as Sala aims to protect 30 percent of the world's oceans by 2030.
Credit: Enric Sala, Pristine Seas
A Galápagos sea lion chases a large school of salema fish off Isabela Island.
Punta Vicente Roca, Isabela Isla, Galápagos Islands, Ecuador
Photo by Enric Sala
➡ Subscribe:
http://bit.ly/NatGeoSubscribe
➡ Get more of Overheard at National Geographic here:
https://bit.ly/OverheardPodcast
➡ Catch up on all episodes of Overheard at National Geographic:
https://on.natgeo.com/3n9D3cF
You can also listen to the Overheard at National Geographic podcast on these platforms:
➡ Apple:
https://bit.ly/OverheardOnApple
➡ Spotify:
https://bit.ly/OverheardOnSpotify
➡ Stitcher:
https://bit.ly/OverheardOnStitcher
➡ Google Podcasts:
https://bit.ly/OverheardOnGoogle
➡ iHeart Radio:
https://bit.ly/OverheardOniHeart
➡ Castbox:
https://bit.ly/OverheardOnCastbox
#NationalGeographic #Overheard #Podcast
About Overheard at National Geographic:
Documenting democracy, Untwisting the world's largest tornado. Searching for wrecks of lost slave ships. Dinosaur hunting in Morocco. Accidentally inventing a new color. Come dive into one of the curiously delightful conversations overheard at National Geographic's headquarters, as we follow explorers, photographers, and scientists to the edges of our big, weird, beautiful world. Hosted by Peter Gwin and Amy Briggs.
About National Geographic:
National Geographic is the world's premium destination for science, exploration, and adventure. Through their world-class scientists, photographers, journalists, and filmmakers, Nat Geo gets you closer to the stories that matter and past the edge of what's possible.
Get More National Geographic:
Official Site:
http://bit.ly/NatGeoOfficialSite
Facebook:
http://bit.ly/FBNatGeo
Twitter:
http://bit.ly/NatGeoTwitter
Instagram:
http://bit.ly/NatGeoInsta
TikTok:
http://www.tiktok.com/@natgeo
Tenor:
http://on.natgeo.com/31b3Koc
Exploring Pristine Seas | Podcast | Overheard at National Geographic
https://youtu.be/D4KiBPS1lxo
National Geographic
https://www.youtube.com/natgeo
via Travels.Tube - Your travel video feed source!