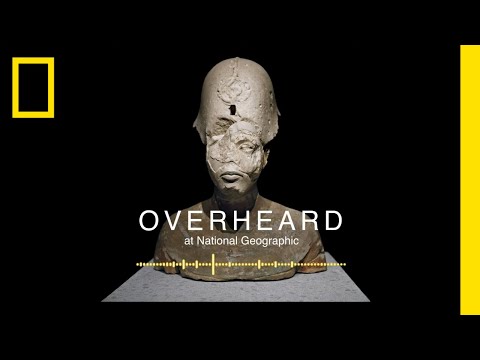 National Geographic Kids' Greeking Out is a kid-friendly retelling of some of the best stories from Greek mythology. This episode, "Akhenaten The Heretic King," is all about King Tut's father and how he attempted to reset Egyptian religion and politics.
In Berlin's Neues Museum, Akhenaten's bust nears scars of upheavals ancient and modern. Smashed by the king's successors in the 14th century B.C., it was also damaged when moved during WW II bombardments.
Credit: Photograph by Rena Effendi, National Geographic
Illustration of Akhenaten, father of king Tut.
Illustration by Gloria Felix
➡ Subscribe:
http://bit.ly/NatGeoSubscribe
➡ Get more of Overheard at National Geographic here:
https://bit.ly/OverheardPodcast
➡ Catch up on all episodes of Overheard at National Geographic:
https://on.natgeo.com/3n9D3cF
You can also listen to the Overheard at National Geographic podcast on these platforms:
➡ Apple:
https://bit.ly/OverheardOnApple
➡ Spotify:
https://bit.ly/OverheardOnSpotify
➡ Stitcher:
https://bit.ly/OverheardOnStitcher
➡ Google Podcasts:
https://bit.ly/OverheardOnGoogle
➡ iHeart Radio:
https://bit.ly/OverheardOniHeart
➡ Castbox:
https://bit.ly/OverheardOnCastbox
#NationalGeographic #Overheard #Podcast
About Overheard at National Geographic:
Documenting democracy, Untwisting the world's largest tornado. Searching for wrecks of lost slave ships. Dinosaur hunting in Morocco. Accidentally inventing a new color. Come dive into one of the curiously delightful conversations overheard at National Geographic's headquarters, as we follow explorers, photographers, and scientists to the edges of our big, weird, beautiful world. Hosted by Peter Gwin and Amy Briggs.
About National Geographic:
National Geographic is the world's premium destination for science, exploration, and adventure. Through their world-class scientists, photographers, journalists, and filmmakers, Nat Geo gets you closer to the stories that matter and past the edge of what's possible.
Get More National Geographic:
Official Site:
http://bit.ly/NatGeoOfficialSite
Facebook:
http://bit.ly/FBNatGeo
Twitter:
http://bit.ly/NatGeoTwitter
Instagram:
http://bit.ly/NatGeoInsta
TikTok:
http://www.tiktok.com/@natgeo
Tenor:
http://on.natgeo.com/31b3Koc
Presenting: Greeking Out by National Geographic Kids | Podcast | Overheard at National Geographic
https://youtu.be/E6n1VS18S-Y
National Geographic
https://www.youtube.com/natgeo
via Travels.Tube - Your travel video feed source!