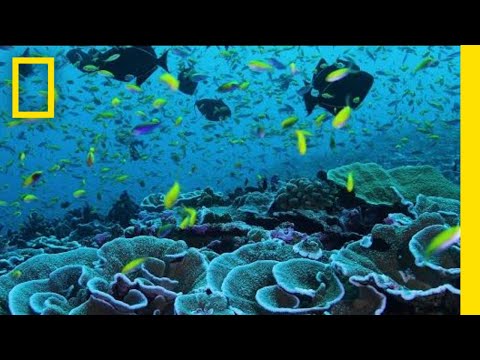 In 2009, National Geographic Pristine Seas explored the Southern Line Islands and found pristine coral reefs, with thriving corals and large fish abundance. But in 2015-16, an unprecedented ocean warming event killed half of the corals. The Pristine Seas team returned in 2021, hoping to see some signs of recovery. What they found instead was the most spectacular recovery of coral reefs ever witnessed. The full length Super Reefs film will premiere in 2023. Stay tuned for more details.
Learn more about Pristine Oceans here:
https://on.natgeo.com/2VA8HEk
Protecting the Ocean Benefits Both People and Nature | Pristine Seas
https://youtu.be/641XDlElxJY
➡ Subscribe:
http://bit.ly/NatGeoSubscribe
#NationalGeographic #PristineSeas
About National Geographic:
National Geographic is the world's premium destination for science, exploration, and adventure. Through their world-class scientists, photographers, journalists, and filmmakers, Nat Geo gets you closer to the stories that matter and past the edge of what's possible.
Get More National Geographic:
Official Site:
http://bit.ly/NatGeoOfficialSite
Facebook:
http://bit.ly/FBNatGeo
Twitter:
http://bit.ly/NatGeoTwitter
Instagram:
http://bit.ly/NatGeoInsta
TikTok:
http://www.tiktok.com/@natgeo
Tenor:
http://on.natgeo.com/31b3Koc
Super Reefs (Short Film) | Pristine Seas | National Geographic Society
https://youtu.be/okaECR2_DzI
National Geographic
https://www.youtube.com/natgeo
via Travels.Tube - Your travel video feed source!