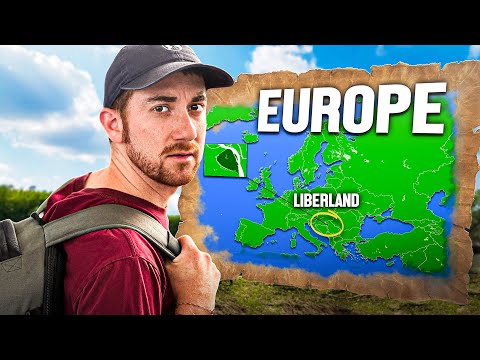 ✅ SUBSCRIBE for More Travel Videos:
http://bit.ly/2hyQnZ1
📝 Get My Top 100 Travel Pics FREE!
https://bit.ly/3Fsk0qo
Check out my podcast!
https://spoti.fi/3RhhZzM
Have you ever heard of LIBERLAND? The self-declared micro-nation that sits on a mysterious 7km plot of land on the border of Serbia and Croatia? If not, then you will be absolutely shocked by what I'm about to share with you in this 33-minute video - one of my favorite stories of the year!
The 'country' of Liberland was founded in 2015 by a Czech libertarian named Vít Jedlička, and it was built on one simple principle: FREEDOM. More than 900 citizens already have their Liberland passports (yes, they are real!!), and this legal document allows them to enter several U.N. countries such as Haiti, Malawi and the Colombia. Word on the street is spreading, and now more than 700,000 people are on the list to get their e-residency cards.
I recently went to Liberland's annual festival called 'Floating Man,' and I was really inspired by the conversations that I had. There were so many creative and forward-thinking minds in one place, with a lot of optimism for the future of Liberland to gain full independence. But one thing didn't feel right to me... It is extremely difficult to enter the physical land.
Both the Serbian and Croatian border police are guarding Liberland 24-7, along the banks of the Danube River, and they will arrest anyone who tries to step foot on the land itself.
In this video, I uncover the full Liberland story and go on a wild mission to land on its soil.
What are your thoughts on Liberland? Would love to hear in the comments below. My team and I have never worked harder on editing a video, and we'd love your feedback.
Follow @Drew Binsky for more stories from EVERY country, and join me on
https://instagram.com/drewbinsky
👕 Thank you for making these travel videos possible by supporting my clothing brand, JUST GO 🌎:
https://shopjustgo.com/
👫 JOIN over 32,000 people in our JUST GO APP!
https://bit.ly/3iAZlnw
✈️ BOOK your next trip here:
https://travel.drewbinsky.com/
FIND ME ON SOCIAL MEDIA:
► IG:
https://www.instagram.com/drewbinsky/
► FB:
https://www.facebook.com/drewbinsky/
► Tik Tok:
https://www.tiktok.com/@drewbinsky
👨🏻‍🦰 WHO AM I?
I'm Drew Binsky and I have been to EVERY Country in the world (197/197). I make travel videos about people, culture, and anything else I find interesting on the road. My ultimate goal is to inspire you to travel far and wide because I think that traveling is the best education that you can get, and our planet is beautiful!
How I find music for my Videos:
- Tom Fox is a legendary musical artist:
https://tfbeats.com/
- Take your films to the next level w/ music from Musidbed:
http://share.mscbd.fm/drewbinsky
MOST POPULAR YOUTUBE VIDEOS:
► He Is The Ice Man:
http://y2u.be/VF8dkjEdKNo
► Tallest Humans on Earth:
http://y2u.be/u03kNQNclGY
► Why is Everything Free in Pakistan?:
http://y2u.be/CWeWxl7ruGE
► 3 Things You Can't Do in North Korea:
http://y2u.be/mNsx0Nqryos
► World's Strangest City:
http://y2u.be/hmIa2SGpm6s
🙏 GET IN TOUCH!
► Website:
https://www.drewbinsky.com/
► Email: business@drewbinsky.com
*Some of the links or other products that appear on this video are from companies which I earn an affiliate commission or referral bonus at no additional cost to you. All opinions are my own. The content in this video is accurate as of the posting date. Some of the offers mentioned may no longer be available.
via Travels.Tube - Your travel video feed source!