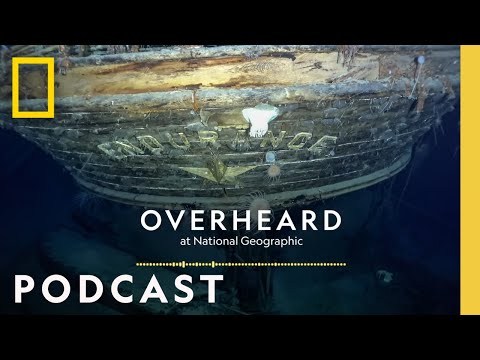 In 1915 Ernest Shackleton's ship, Endurance, sank off the coast of Antarctica, stranding the crew on drifting sea ice. Shackleton's desperate rescue mission saved all 28 men. But for more than a century afterward, the location of Endurance eluded archaeologists—until this year. National Geographic photographer Esther Horvath was there and recounts the moment when the ship was located 10,000 feet beneath the polar ice.
A 2022 expedition discovered Endurance almost two miles below the surface of the Southern Ocean. The sinking of Endurance, in 1915, stranded Ernest Shackleton and his crew of explorers on floating sea ice as they attempted to cross Antarctica on foot.
Credit: Video still by the Falkland Maritime Heritage Trust, National Geographic
➡ Subscribe:
http://bit.ly/NatGeoSubscribe
➡ Get more of Overheard at National Geographic here:
https://bit.ly/OverheardPodcast
➡ Catch up on all episodes of Overheard at National Geographic:
https://on.natgeo.com/3n9D3cF
You can also listen to the Overheard at National Geographic podcast on these platforms:
➡ Apple:
https://bit.ly/OverheardOnApple
➡ Spotify:
https://bit.ly/OverheardOnSpotify
➡ Stitcher:
https://bit.ly/OverheardOnStitcher
➡ Google Podcasts:
https://bit.ly/OverheardOnGoogle
➡ iHeart Radio:
https://bit.ly/OverheardOniHeart
➡ Castbox:
https://bit.ly/OverheardOnCastbox
#NationalGeographic #Overheard #Podcast
About Overheard at National Geographic:
Documenting democracy, Untwisting the world's largest tornado. Searching for wrecks of lost slave ships. Dinosaur hunting in Morocco. Accidentally inventing a new color. Come dive into one of the curiously delightful conversations overheard at National Geographic's headquarters, as we follow explorers, photographers, and scientists to the edges of our big, weird, beautiful world. Hosted by Peter Gwin and Amy Briggs.
About National Geographic:
National Geographic is the world's premium destination for science, exploration, and adventure. Through their world-class scientists, photographers, journalists, and filmmakers, Nat Geo gets you closer to the stories that matter and past the edge of what's possible.
Get More National Geographic:
Official Site:
http://bit.ly/NatGeoOfficialSite
Facebook:
http://bit.ly/FBNatGeo
Twitter:
http://bit.ly/NatGeoTwitter
Instagram:
http://bit.ly/NatGeoInsta
TikTok:
http://www.tiktok.com/@natgeo
Tenor:
http://on.natgeo.com/31b3Koc
What the Ice Gets, the Ice Keeps | Podcast | Overheard at National Geographic
https://youtu.be/gmINktHENug
National Geographic
https://www.youtube.com/natgeo
via Travels.Tube - Your travel video feed source!