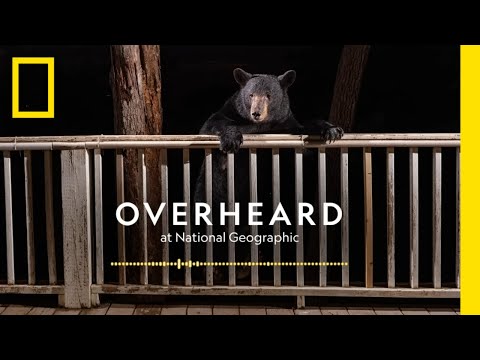 Sure, we love bears when they show up in books or cartoons. But what if one is outside our window? Human-bear encounters are becoming far more frequent as development continues to spread and people and bears seek similar resources of food, water, and shelter. National Geographic Explorer and large-carnivore ecologist Rae Wynn-Grant dispels a few myths about bear behavior, describes what it's like to cuddle a bear cub, and offers tips on what to do if you find a bear in your backyard—or bump into one in the wild.
Photo Caption: Janice Husebo and Janney Husebo, a married couple from Asheville, N.C., live on the outskirts of town high up on a hill surrounded by wilderness. Multiple times a day bears show up on their back porch, which stands about 10-to-15 feet above the ground, to eat the bird seed the couple leaves out. Janice has developed a close bond with the bears and plays with the cubs using a feather duster through the sliding glass door. Some of the bears have lost their fear of humans and spend hours on her porch relaxing, bathing in the tubs of water she leaves out, and lurking at the sliding door in hopes that someone would bring them a snack.
Credit: Photograph by Corey Arnold, National Geographic
Portrait of Rae Wynn Grant by Rebecca Hale
➡ Subscribe:
http://bit.ly/NatGeoSubscribe
➡ Get more of Overheard at National Geographic here:
https://bit.ly/OverheardPodcast
➡ Catch up on all episodes of Overheard at National Geographic:
https://on.natgeo.com/3n9D3cF
You can also listen to the Overheard at National Geographic podcast on these platforms:
➡ Apple:
https://bit.ly/OverheardOnApple
➡ Spotify:
https://bit.ly/OverheardOnSpotify
➡ Stitcher:
https://bit.ly/OverheardOnStitcher
➡ Google Podcasts:
https://bit.ly/OverheardOnGoogle
➡ iHeart Radio:
https://bit.ly/OverheardOniHeart
➡ Castbox:
https://bit.ly/OverheardOnCastbox
#NationalGeographic #Overheard #Podcast
About Overheard at National Geographic:
Documenting democracy, Untwisting the world's largest tornado. Searching for wrecks of lost slave ships. Dinosaur hunting in Morocco. Accidentally inventing a new color. Come dive into one of the curiously delightful conversations overheard at National Geographic's headquarters, as we follow explorers, photographers, and scientists to the edges of our big, weird, beautiful world. Hosted by Peter Gwin and Amy Briggs.
About National Geographic:
National Geographic is the world's premium destination for science, exploration, and adventure. Through their world-class scientists, photographers, journalists, and filmmakers, Nat Geo gets you closer to the stories that matter and past the edge of what's possible.
Get More National Geographic:
Official Site:
http://bit.ly/NatGeoOfficialSite
Facebook:
http://bit.ly/FBNatGeo
Twitter:
http://bit.ly/NatGeoTwitter
Instagram:
http://bit.ly/NatGeoInsta
TikTok:
http://www.tiktok.com/@natgeo
Tenor:
http://on.natgeo.com/31b3Koc
There's a Bear in My Backyard | Podcast | Overheard at National Geographic
https://youtu.be/cEnA0T1s6KI
National Geographic
https://www.youtube.com/natgeo
via Travels.Tube - Your travel video feed source!