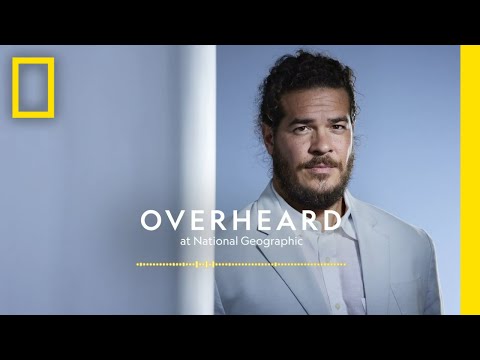 Where ancient Polynesians studied the stars to navigate the vast Pacific Ocean, Hawaii's first Native genomic scientist is analyzing genetic data to rewrite the narratives of Indigenous communities and help change their future.
National Geographic Explorer Keolu Fox grew up hearing stories about his ancestors, Polynesian navigators, and the men who in the late 1970s led the first Hōkūleʻa voyage to Tahiti. As the first Native Hawaiian with a Ph.D. in genomic sciences, Fox tells us how genetic data can help reveal powerful narratives about the history of Indigenous people and their achievements, and empower communities to use data to improve public health and preserve their culture.
Credit: Through his genomic analyses, Keolu Fox hopes to find clues that lead to new medicines, better health care, and even land reclamation. Photo by Rebecca Hale
➡ Subscribe:
http://bit.ly/NatGeoSubscribe
➡ Get more of Overheard at National Geographic here:
https://bit.ly/OverheardPodcast
➡ Catch up on all episodes of Overheard at National Geographic:
https://on.natgeo.com/3n9D3cF
You can also listen to the Overheard at National Geographic podcast on these platforms:
➡ Apple:
https://bit.ly/OverheardOnApple
➡ Spotify:
https://bit.ly/OverheardOnSpotify
➡ Stitcher:
https://bit.ly/OverheardOnStitcher
➡ Google Podcasts:
https://bit.ly/OverheardOnGoogle
➡ iHeart Radio:
https://bit.ly/OverheardOniHeart
➡ Castbox:
https://bit.ly/OverheardOnCastbox
#NationalGeographic #Overheard #HumanGenome
About Overheard at National Geographic:
Documenting democracy, Untwisting the world's largest tornado. Searching for wrecks of lost slave ships. Dinosaur hunting in Morocco. Accidentally inventing a new color. Come dive into one of the curiously delightful conversations overheard at National Geographic's headquarters, as we follow explorers, photographers, and scientists to the edges of our big, weird, beautiful world. Hosted by Peter Gwin and Amy Briggs.
About National Geographic:
National Geographic is the world's premium destination for science, exploration, and adventure. Through their world-class scientists, photographers, journalists, and filmmakers, Nat Geo gets you closer to the stories that matter and past the edge of what's possible.
Get More National Geographic:
Official Site:
http://bit.ly/NatGeoOfficialSite
Facebook:
http://bit.ly/FBNatGeo
Twitter:
http://bit.ly/NatGeoTwitter
Instagram:
http://bit.ly/NatGeoInsta
TikTok:
http://www.tiktok.com/@natgeo
Tenor:
http://on.natgeo.com/31b3Koc
Wayfinding Through the Human Genome | Podcast | Overheard at National Geographic
https://youtu.be/2tvo36_4xwU
National Geographic
https://www.youtube.com/natgeo
via Travels.Tube - Your travel video feed source!