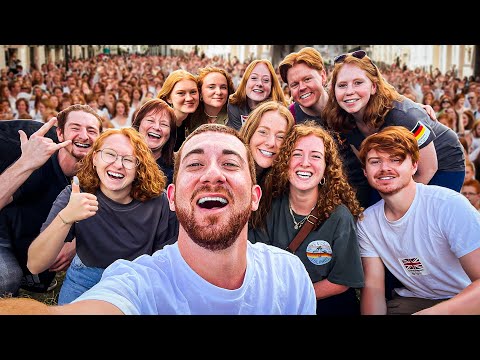 🔥 My Top Travel Rewards Credit Cards:
https://www.drewbinsky.com/credit-cards
✅ SUBSCRIBE for More Travel Videos:
http://bit.ly/2hyQnZ1
Check out my podcast!
https://spoti.fi/3RhhZzM
As a proud ginger, I was THRILLED to attend the world's largest ginger festival/gathering a few months ago! It was the 12th consecutive year of Ginger Fest, held in a small town in Southern Netherlands called Tilburg. And what a blast it was!
More than 1,000 gingers, from all over the globe, came in for a weekend of music, activities, picnics, bar crawls and just old-fashioned FUN.
But I must admit.. it was pretty strange to spend 2 days exclusively with other members of the ginger community. Why? Because we have nothing else in common other than our unique genetic mutations. Most festivals/gatherings around the world are centered around a common INTEREST, such as music, sports, arts, etc -- but this one? It's just a bunch of redheads taking over a small Dutch town!
That being said, I will say that it was a fun time, and I made several new redhead friends who took me around UTRECHT (my new favorite city in Europe). It's a mini-Amsterdam, without all the tourists - as you'll find out in this story!
Thanks for watching and stay tuned for next week, when I visit the bizarre town called BAARLE which is literally stuck in between two countries: Netherlands and Belgium.
Follow @Drew Binsky for more stories from EVERY country, and join me on
👕 Thank you for making these travel videos possible by supporting my clothing brand, JUST GO 🌎:
https://shopjustgo.com/
👫 JOIN over 32,000 people in our JUST GO APP!
https://bit.ly/3iAZlnw
✈️ BOOK your next trip here:
https://travel.drewbinsky.com/
FIND ME ON SOCIAL MEDIA:
► IG:
https://www.instagram.com/drewbinsky/
► FB:
https://www.facebook.com/drewbinsky/
► Tik Tok:
https://www.tiktok.com/@drewbinsky
👨🏻‍🦰 WHO AM I?
I'm Drew Binsky and I have been to EVERY Country in the world (197/197). I make travel videos about people, culture, and anything else I find interesting on the road. My ultimate goal is to inspire you to travel far and wide because I think that traveling is the best education that you can get, and our planet is beautiful!
How I find music for my Videos:
- Tom Fox is a legendary musical artist:
https://tfbeats.com/
- Take your films to the next level w/ music from Musidbed:
http://share.mscbd.fm/drewbinsky
MOST POPULAR YOUTUBE VIDEOS:
► He Is The Ice Man:
http://y2u.be/VF8dkjEdKNo
► Tallest Humans on Earth:
http://y2u.be/u03kNQNclGY
► Why is Everything Free in Pakistan?:
http://y2u.be/CWeWxl7ruGE
► 3 Things You Can't Do in North Korea:
http://y2u.be/mNsx0Nqryos
► World's Strangest City:
http://y2u.be/hmIa2SGpm6s
🙏 GET IN TOUCH!
► Website:
https://world.drewbinsky.com/
► Email: business@drewbinsky.com
*Some of the links or other products that appear on this video are from companies which I earn an affiliate commission or referral bonus at no additional cost to you. All opinions are my own. The content in this video is accurate as of the posting date. Some of the offers mentioned may no longer be available.
via Travels.Tube - Your travel video feed source!