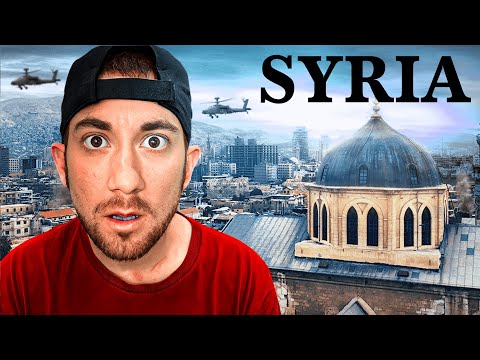 ✅ SUBSCRIBE for More Travel Videos:
http://bit.ly/2hyQnZ1
📝 Get My Top 100 Travel Pics FREE!
https://bit.ly/3Fsk0qo
Hey guys!!! Join me on an unforgettable and eye-opening journey in SYRIA as I embark on a 13-day solo adventure across one of the most conflict-ridden countries in the world. This is not your typical travel vlog, as I go beyond the tourist hotspots and dive deep into the heart of Syria, experiencing the culture, the people, and the everyday life in a way that few outsiders ever have seen before.
From the ancient ruins of Aleppo to the bustling streets of Damascus and the lovely beach towns of Latakia, I capture the raw beauty and resilience of a nation torn apart by war. This is a side of Syria that you certainly won't see on the news, and it will leave you with a new perspective on the Middle East. Get ready to be moved, inspired, and maybe even a little bit scared as I take you on the trip of a lifetime.
Follow me on Instagram for more travel updates in real time!
https://www.instagram.com/drewbinsky/
#syria #middleeast #travel
👕 Thank you for making these travel videos possible by supporting my clothing brand, JUST GO 🌎:
https://shopjustgo.com/
👫 JOIN over 33,000 people in our JUST GO APP!
https://bit.ly/3iAZlnw
✈️ BOOK your next trip here:
https://travel.drewbinsky.com/
FIND ME ON SOCIAL MEDIA:
► IG:
https://www.instagram.com/drewbinsky/
► FB:
https://www.facebook.com/drewbinsky/
► Tik Tok:
https://www.tiktok.com/@drewbinsky
👨🏻‍🦰 WHO AM I?
I'm Drew Binsky and I have been to EVERY Country in the world (197/197). I make travel videos about people, culture, and anything else I find interesting on the road. My ultimate goal is to inspire you to travel far and wide because I think that traveling is the best education that you can get, and our planet is beautiful!
How I find music for my Videos:
- Tom Fox is a legendary musical artist:
https://tfbeats.com/
- Take your films to the next level w/ music from Musidbed:
http://share.mscbd.fm/drewbinsky
MOST POPULAR YOUTUBE VIDEOS:
► He Is The Ice Man:
http://y2u.be/VF8dkjEdKNo
► Tallest Humans on Earth:
http://y2u.be/u03kNQNclGY
► Why is Everything Free in Pakistan?:
http://y2u.be/CWeWxl7ruGE
► 3 Things You Can't Do in North Korea:
http://y2u.be/mNsx0Nqryos
► World's Strangest City:
http://y2u.be/hmIa2SGpm6s
🙏 GET IN TOUCH!
► Website:
https://world.drewbinsky.com/
► Email: partnerships@drewbinsky.com
*Some of the links or other products that appear on this video are from companies which I earn an affiliate commission or referral bonus at no additional cost to you. All opinions are my own. The content in this video is accurate as of the posting date. Some of the offers mentioned may no longer be available.
via Travels.Tube - Your travel video feed source!