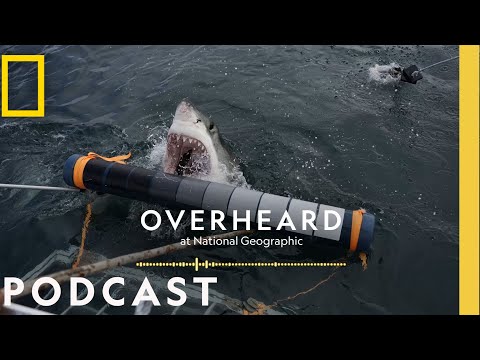 When Nat Geo Explorer Gibbs Kuguru was in college, he found himself trying to choose between two terrifying futures: going free diving with sharks off the coast of South Africa or, even scarier, studying for the MCAT. Since then, he's become devoted to sharks; his genetic research has shown they can do remarkable things, like changing color to become more effective predators. And he's also become a staunch advocate for shark species as they grow more vulnerable to overfishing and the effects of climate change.
Photo Caption: Off South Africa, while National Geographic Explorer Gibbs Kuguru ran an experiment on color change in sharks, a great white shark attempted to take a bite out of the research equipment.
Photo by Gibbs Kuguru
➡ Subscribe:
http://bit.ly/NatGeoSubscribe
➡ Get more of Overheard at National Geographic here:
https://bit.ly/OverheardPodcast
➡ Catch up on all episodes of Overheard at National Geographic:
https://on.natgeo.com/3n9D3cF
You can also listen to the Overheard at National Geographic podcast on these platforms:
➡ Apple:
https://bit.ly/OverheardOnApple
➡ Spotify:
https://bit.ly/OverheardOnSpotify
➡ Stitcher:
https://bit.ly/OverheardOnStitcher
➡ Google Podcasts:
https://bit.ly/OverheardOnGoogle
➡ iHeart Radio:
https://bit.ly/OverheardOniHeart
➡ Castbox:
https://bit.ly/OverheardOnCastbox
#NationalGeographic #Overheard #Podcast
About Overheard at National Geographic:
Documenting democracy, Untwisting the world's largest tornado. Searching for wrecks of lost slave ships. Dinosaur hunting in Morocco. Accidentally inventing a new color. Come dive into one of the curiously delightful conversations overheard at National Geographic's headquarters, as we follow explorers, photographers, and scientists to the edges of our big, weird, beautiful world. Hosted by Peter Gwin and Amy Briggs.
About National Geographic:
National Geographic is the world's premium destination for science, exploration, and adventure. Through their world-class scientists, photographers, journalists, and filmmakers, Nat Geo gets you closer to the stories that matter and past the edge of what's possible.
Get More National Geographic:
Official Site:
http://bit.ly/NatGeoOfficialSite
Facebook:
http://bit.ly/FBNatGeo
Twitter:
http://bit.ly/NatGeoTwitter
Instagram:
http://bit.ly/NatGeoInsta
TikTok:
http://www.tiktok.com/@natgeo
Tenor:
http://on.natgeo.com/31b3Koc
How Sharks Devoured My Career | Podcast | Overheard at National Geographic
https://youtu.be/9wFZiS8TWVo
National Geographic
https://www.youtube.com/natgeo
via Travels.Tube - Your travel video feed source!