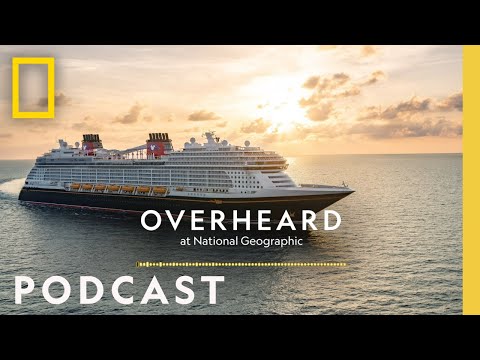 A Disney Imagineer shares what it was like to design a cruise ship the size of the Eiffel Tower and what it takes to become an Imagineer. Last summer, Disney Cruise Line released its fifth and most technologically advanced cruise ship yet: Disney Wish. We'll meet Laura Cabo, a creative executive at Walt Disney Imagineering, who shares the excitement and challenges in designing a cruise ship that's nearly as long as the Eiffel Tower, and how Imagineers turn visions into reality.
Credit: ©Disney
Photo Caption: Disney Wish, the newest ship to join the Disney Cruise Line family, is now sailing three- and four-night cruises to The Bahamas from its home port of Port Canaveral, Florida.
➡ Subscribe:
http://bit.ly/NatGeoSubscribe
➡ Get more of Overheard at National Geographic here:
https://bit.ly/OverheardPodcast
➡ Catch up on all episodes of Overheard at National Geographic:
https://on.natgeo.com/3n9D3cF
You can also listen to the Overheard at National Geographic podcast on these platforms:
➡ Apple:
https://bit.ly/OverheardOnApple
➡ Spotify:
https://bit.ly/OverheardOnSpotify
➡ Stitcher:
https://bit.ly/OverheardOnStitcher
➡ Google Podcasts:
https://bit.ly/OverheardOnGoogle
➡ iHeart Radio:
https://bit.ly/OverheardOniHeart
➡ Castbox:
https://bit.ly/OverheardOnCastbox
#NationalGeographic #Overheard #Podcast
About Overheard at National Geographic:
Documenting democracy, Untwisting the world's largest tornado. Searching for wrecks of lost slave ships. Dinosaur hunting in Morocco. Accidentally inventing a new color. Come dive into one of the curiously delightful conversations overheard at National Geographic's headquarters, as we follow explorers, photographers, and scientists to the edges of our big, weird, beautiful world. Hosted by Peter Gwin and Amy Briggs.
About National Geographic:
National Geographic is the world's premium destination for science, exploration, and adventure. Through their world-class scientists, photographers, journalists, and filmmakers, Nat Geo gets you closer to the stories that matter and past the edge of what's possible.
Get More National Geographic:
Official Site:
http://bit.ly/NatGeoOfficialSite
Facebook:
http://bit.ly/FBNatGeo
Twitter:
http://bit.ly/NatGeoTwitter
Instagram:
http://bit.ly/NatGeoInsta
TikTok:
http://www.tiktok.com/@natgeo
Tenor:
http://on.natgeo.com/31b3Koc
Meet an Imagineer Who Built a Wish | Podcast | Overheard at National Geographic
https://youtu.be/ElNYUq0Na_A
National Geographic
https://www.youtube.com/natgeo
via Travels.Tube - Your travel video feed source!