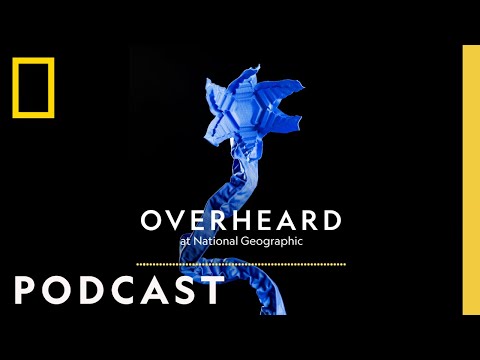 Origami isn't just child's play– the math and science behind paper folding can revolutionize how we make all kinds of technologies. In recent decades, scientists, engineers and designers have pushed origami beyond its traditional roots and applied its patterns to fascinating technologies like shape-shifting robots, artificial human organs and structures for space exploration. We'll fold cranes with Nat Geo writer Maya Wei-Haas, who will share the latest advancements with origami and what the future holds for this artform in science.
Guest: Maya Wei-Haas, Nat Geo writer
Host: Eli Chen
Producer: Ilana Strauss
Editor: Jacob Pinter
Photo caption: Roboticist Shuguang Li used origami to develop soft, strong, and light-weight robotic arms. Each arm acts like an artificial muscle, encased in a vacuum bag "skin" with an inner skeleton inspired by origami's folds. By varying vacuum pressure, Li can make the arms perform useful tasks, like lifting and grasping.
Photo by Craig Cutler
➡ Subscribe:
http://bit.ly/NatGeoSubscribe
➡ Get more of Overheard at National Geographic here:
https://bit.ly/OverheardPodcast
➡ Catch up on all episodes of Overheard at National Geographic:
https://on.natgeo.com/3n9D3cF
You can also listen to the Overheard at National Geographic podcast on these platforms:
➡ Apple:
https://bit.ly/OverheardOnApple
➡ Spotify:
https://bit.ly/OverheardOnSpotify
➡ Stitcher:
https://bit.ly/OverheardOnStitcher
➡ Google Podcasts:
https://bit.ly/OverheardOnGoogle
➡ iHeart Radio:
https://bit.ly/OverheardOniHeart
➡ Castbox:
https://bit.ly/OverheardOnCastbox
#NationalGeographic #Overheard #Podcast
About Overheard at National Geographic:
Documenting democracy, Untwisting the world's largest tornado. Searching for wrecks of lost slave ships. Dinosaur hunting in Morocco. Accidentally inventing a new color. Come dive into one of the curiously delightful conversations overheard at National Geographic's headquarters, as we follow explorers, photographers, and scientists to the edges of our big, weird, beautiful world. Hosted by Peter Gwin and Amy Briggs.
About National Geographic:
National Geographic is the world's premium destination for science, exploration, and adventure. Through their world-class scientists, photographers, journalists, and filmmakers, Nat Geo gets you closer to the stories that matter and past the edge of what's possible.
Get More National Geographic:
Official Site:
http://bit.ly/NatGeoOfficialSite
Facebook:
http://bit.ly/FBNatGeo
Twitter:
http://bit.ly/NatGeoTwitter
Instagram:
http://bit.ly/NatGeoInsta
TikTok:
http://www.tiktok.com/@natgeo
Tenor:
http://on.natgeo.com/31b3Koc
Unfolding the Future of Origami | Podcast | Overheard at National Geographic
https://youtu.be/prQL-uN0eKQ
National Geographic
https://www.youtube.com/natgeo
via Travels.Tube - Your travel video feed source!