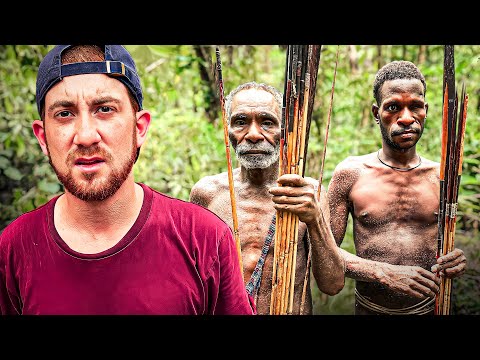 ✅ Watch BTS of this story:
https://bit.ly/3WKvk72
📝 Get My Top 100 Travel Pics FREE!
https://www.drewbinsky.com/bestphotos
I am honestly speechless by this story. It's a story that I've been wanting to tell for 7 years, and finally, I DID IT!
Papua Island is a wild place, to say the least. In many ways, it's considered 'the last frontier' in terms of off-the-beaten-path places on earth. And I went there completely alone, in search of the world's last humans who eat other humans. It's the last known place on earth to have this kind of bizarre culture and tradition.
Papua Island is (politically) split into two halves. The Western half is a part of Indonesia, while the Eastern half is Papua New Guinea, an independent country. I showed up in West Papua, all alone, and had to figure out how I was going to travel deep into the jungle to meet the tribe.
After a massive logistical nightmare (see my BTS video on my 2nd channel linked above), I ended up making it to the tribe where I spent 2 days, and it was absolutely incredible to learn about their unique way of life.
I'd love to hear your feedback on this story because my team and I put A LOT of time, effort, and energy into it -- and I think it's the future for this channel. If you are reading this, I am doing a contest where the 'most liked' or creative comment will win a prize - so feel free to share your thoughts!
I love you guys, and cheers to the first video of 2023! I hope you have a happy, successful, and adventurous year full of amazing travels and positive vibes. More stories coming soon!
Subscribe for more stories about remote tribes and more!
http://bit.ly/2hyQnZ1
#travel #papua #tribe
👕 Thank you for making these travel videos possible by supporting my clothing brand, JUST GO 🌎:
https://shopjustgo.com/
👫 JOIN over 33,000 people in our JUST GO APP!
https://bit.ly/3iAZlnw
✈️ BOOK your next trip here:
https://travel.drewbinsky.com/
FIND ME ON SOCIAL MEDIA:
► IG:
https://www.instagram.com/drewbinsky/
► FB:
https://www.facebook.com/drewbinsky/
► Tik Tok:
https://www.tiktok.com/@drewbinsky
👨🏻‍🦰 WHO AM I?
I'm Drew Binsky and I have been to EVERY Country in the world (197/197). I make travel videos about people, culture, and anything else I find interesting on the road. My ultimate goal is to inspire you to travel far and wide because I think that traveling is the best education that you can get, and our planet is beautiful!
How I find music for my Videos:
- Tom Fox is a legendary musical artist:
https://tfbeats.com/
- Take your films to the next level w/ music from Musidbed:
http://share.mscbd.fm/drewbinsky
MOST POPULAR YOUTUBE VIDEOS:
► He Is The Ice Man:
http://y2u.be/VF8dkjEdKNo
► Tallest Humans on Earth:
http://y2u.be/u03kNQNclGY
► Why is Everything Free in Pakistan?:
http://y2u.be/CWeWxl7ruGE
► 3 Things You Can't Do in North Korea:
http://y2u.be/mNsx0Nqryos
► World's Strangest City:
http://y2u.be/hmIa2SGpm6s
🙏 GET IN TOUCH!
► Website:
https://world.drewbinsky.com/
► Email: partnerships@drewbinsky.com
*Some of the links or other products that appear on this video are from companies which I earn an affiliate commission or referral bonus at no additional cost to you. All opinions are my own. The content in this video is accurate as of the posting date. Some of the offers mentioned may no longer be available.
via Travels.Tube - Your travel video feed source!