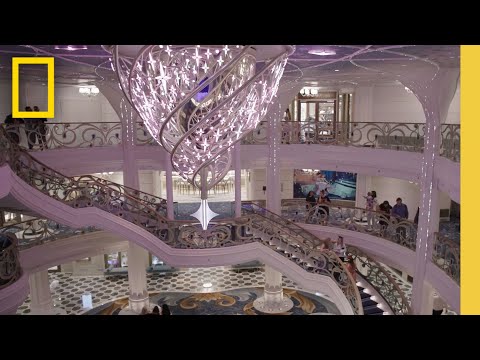 Paid content for Disney Cruise Line. The Disney Wish features remarkable design details, from the interior architecture to the filigree in the carpets to the thousands of props, paintings, and sculptures. Every aspect has been carefully considered to tell a story Join us for the third of six mini episodes for a sneak peek. Making the Wish: Disney's Newest Cruise Ship streams February 17th on Disney+.
➡ Subscribe:
http://bit.ly/NatGeoSubscribe
#NationalGeographic #MakingTheDisneyWish
About National Geographic:
National Geographic is the world's premium destination for science, exploration, and adventure. Through their world-class scientists, photographers, journalists, and filmmakers, Nat Geo gets you closer to the stories that matter and past the edge of what's possible.
Get More National Geographic:
Official Site:
http://bit.ly/NatGeoOfficialSite
Facebook:
http://bit.ly/FBNatGeo
Twitter:
http://bit.ly/NatGeoTwitter
Instagram:
http://bit.ly/NatGeoInsta
TikTok:
http://www.tiktok.com/@natgeo
Tenor:
http://on.natgeo.com/31b3Koc
Designing a Cruise Ship | Making the Disney Wish | Mini Episode 3
https://youtu.be/2eunzmCy3hc
National Geographic
https://www.youtube.com/natgeo
via Travels.Tube - Your travel video feed source!