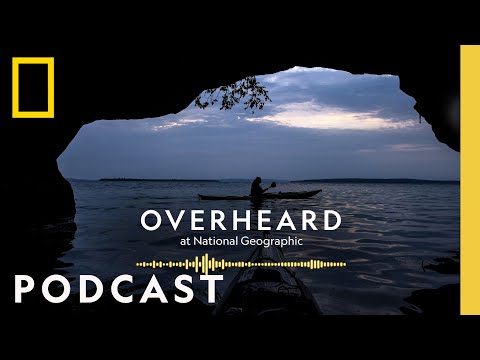 National Geographic Photographer David Guttenfelder is no stranger to dangerous situations. After graduating from college, he left his life in rural Iowa to cover the 1994 Rwandan genocide, an experience that kicked off a decades-long career of reporting on war, conflict and major news events all around the world. But when the COVID-19 pandemic shut down travel to most countries, he took an assignment close to his roots—paddling the treacherously unpredictable waters between the Apostle Islands in Lake Superior. He describes what it was like visiting historic lighthouses and sea caves, and share some surprising lessons he took away from that experience.
National Geographic Explorer David Guttenfelder photographed this sea cave on Sand Island in 2021 while kayaking to the 21 islands in the Apostle Islands National Lakeshore in Lake Superior.
Credit: Photograph by David Guttenfelder, National Geographic
➡ Subscribe:
http://bit.ly/NatGeoSubscribe
➡ Get more of Overheard at National Geographic here:
https://bit.ly/OverheardPodcast
➡ Catch up on all episodes of Overheard at National Geographic:
https://on.natgeo.com/3n9D3cF
You can also listen to the Overheard at National Geographic podcast on these platforms:
➡ Apple:
https://bit.ly/OverheardOnApple
➡ Spotify:
https://bit.ly/OverheardOnSpotify
➡ Stitcher:
https://bit.ly/OverheardOnStitcher
➡ Google Podcasts:
https://bit.ly/OverheardOnGoogle
➡ iHeart Radio:
https://bit.ly/OverheardOniHeart
➡ Castbox:
https://bit.ly/OverheardOnCastbox
#NationalGeographic #Overheard #Podcast
About Overheard at National Geographic:
Documenting democracy, Untwisting the world's largest tornado. Searching for wrecks of lost slave ships. Dinosaur hunting in Morocco. Accidentally inventing a new color. Come dive into one of the curiously delightful conversations overheard at National Geographic's headquarters, as we follow explorers, photographers, and scientists to the edges of our big, weird, beautiful world. Hosted by Peter Gwin and Amy Briggs.
About National Geographic:
National Geographic is the world's premium destination for science, exploration, and adventure. Through their world-class scientists, photographers, journalists, and filmmakers, Nat Geo gets you closer to the stories that matter and past the edge of what's possible.
Get More National Geographic:
Official Site:
http://bit.ly/NatGeoOfficialSite
Facebook:
http://bit.ly/FBNatGeo
Twitter:
http://bit.ly/NatGeoTwitter
Instagram:
http://bit.ly/NatGeoInsta
TikTok:
http://www.tiktok.com/@natgeo
Tenor:
http://on.natgeo.com/31b3Koc
The Frontlines of War to Lake Superior's Shorelines | Podcast | Overheard at National Geographic
https://youtu.be/YLRDhfvAuOI
National Geographic
https://www.youtube.com/natgeo
via Travels.Tube - Your travel video feed source!