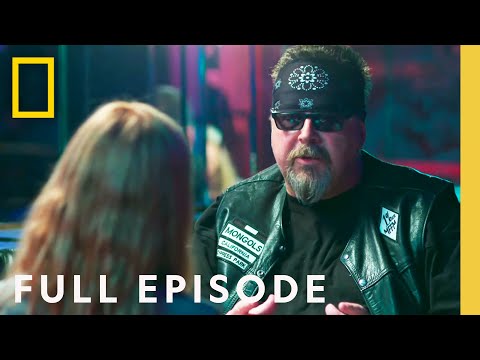 Mariana van Zeller investigates outlaw motorcycle gangs known as 1% clubs, learning about the bonds of brotherhood that fuel these violent groups.
➡ Subscribe:
http://bit.ly/NatGeoSubscribe
➡ Get more Nat Geo Full Episodes:
https://youtube.com/playlist?list=PLivjPDlt6ApSiD2mk9Ngp-5dZ9CDDn72O
➡ Get more Nat Geo Wild Full Episodes:
https://youtu.be/qAG2SkTPltw
And check out more National Geographic series and specials here:
➡ Disney Plus:
https://www.disneyplus.com
➡ Hulu:
https://www.hulu.com/welcome
➡ NGTV app:
https://www.nationalgeographic.com/tv/
➡ ABC app:
https://abc.com/
About Trafficked with Mariana van Zeller:
TRAFFICKED with Mariana van Zeller is an original documentary series that explores the complex and dangerous inner-workings of the global underworld, black and informal markets. Each adventure follows Mariana on a mission to follow the chain of custody of trafficked goods, understand how to obtain the contraband, or see the 360-degree view of the trafficking world from the point of view of the smugglers, law enforcement and those caught in the crossfire.
#FullEpisode #TraffickedWithMarianaVanZeller #NationalGeographic
Get More National Geographic:
Official Site:
http://bit.ly/NatGeoOfficialSite
Facebook:
http://bit.ly/FBNatGeo
Twitter:
http://bit.ly/NatGeoTwitter
Instagram:
http://bit.ly/NatGeoInsta
TikTok:
http://www.tiktok.com/@natgeo
Tenor:
http://on.natgeo.com/31b3Koc
About National Geographic:
National Geographic is the world's premium destination for science, exploration, and adventure. Through their world-class scientists, photographers, journalists, and filmmakers, Nat Geo gets you closer to the stories that matter and past the edge of what's possible.
Investigating Outlaw Motorcycle Gangs (Full Episode) | Trafficked with Mariana Van Zeller
https://youtu.be/tBZQ0OEYXxY
National Geographic
https://www.youtube.com/natgeo
via Travels.Tube - Your travel video feed source!