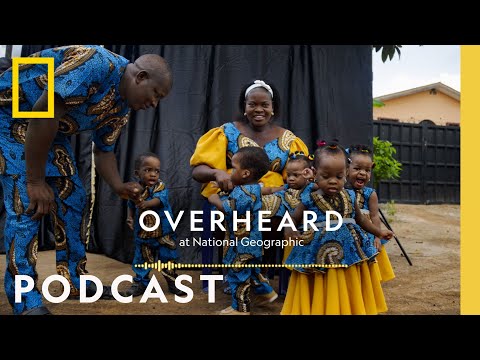 With 224 million people, Nigeria is Africa's most populous country. By 2050, it could crack the global top three with some 375 million people. In the second of our two-part series on the global population passing eight billion, National Geographic photographer Yagazie Emezie describes scenes she captured in Lagos, Africa's biggest city—including intimate close-ups of a family raising four children in a one-room apartment and women receiving prenatal care. Plus, a Nigerian demographer explains how the country's soaring birth rate could make it an economic powerhouse, but only if the country finds new ways to invest in its youthful population.
After years of trying to conceive, Foyeke Omage and her husband, Ewanle, welcomed quintuplets as a miracle. But the cost of raising three girls and two boys is a financial strain. Although quintuplets are extremely rare, Nigeria's total fertility rate is more than five children per woman. Its fast-growing population is on track to add 150 million people by 2050, possibly making it the world's third most populous country.
Credit: Photograph by Yagazie Emezi, National Geographic
➡ Subscribe:
http://bit.ly/NatGeoSubscribe
➡ Get more of Overheard at National Geographic here:
https://bit.ly/OverheardPodcast
➡ Catch up on all episodes of Overheard at National Geographic:
https://on.natgeo.com/3n9D3cF
You can also listen to the Overheard at National Geographic podcast on these platforms:
➡ Apple:
https://bit.ly/OverheardOnApple
➡ Spotify:
https://bit.ly/OverheardOnSpotify
➡ Stitcher:
https://bit.ly/OverheardOnStitcher
➡ Google Podcasts:
https://bit.ly/OverheardOnGoogle
➡ iHeart Radio:
https://bit.ly/OverheardOniHeart
➡ Castbox:
https://bit.ly/OverheardOnCastbox
#NationalGeographic #Overheard #Podcast
About Overheard at National Geographic:
Documenting democracy, Untwisting the world's largest tornado. Searching for wrecks of lost slave ships. Dinosaur hunting in Morocco. Accidentally inventing a new color. Come dive into one of the curiously delightful conversations overheard at National Geographic's headquarters, as we follow explorers, photographers, and scientists to the edges of our big, weird, beautiful world. Hosted by Peter Gwin and Amy Briggs.
About National Geographic:
National Geographic is the world's premium destination for science, exploration, and adventure. Through their world-class scientists, photographers, journalists, and filmmakers, Nat Geo gets you closer to the stories that matter and past the edge of what's possible.
Get More National Geographic:
Official Site:
http://bit.ly/NatGeoOfficialSite
Facebook:
http://bit.ly/FBNatGeo
Twitter:
http://bit.ly/NatGeoTwitter
Instagram:
http://bit.ly/NatGeoInsta
TikTok:
http://www.tiktok.com/@natgeo
Tenor:
http://on.natgeo.com/31b3Koc
Scenes From Nigeria's Baby Boom | Podcast | Overheard at National Geographic
https://youtu.be/JnnAk5viny0
National Geographic
https://www.youtube.com/natgeo
via Travels.Tube - Your travel video feed source!