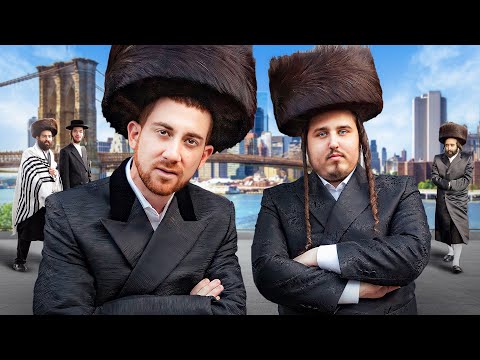 ✅ SUBSCRIBE for More Travel Videos:
http://bit.ly/2hyQnZ1
📝 Get My Top 100 Travel Pics FREE!
https://bit.ly/3Fsk0qo
As someone who grew up Jewish in Arizona, I've always been fascinated by the Hasidic Jews of Brooklyn, New York. They are widely considered to be America's most religious and closed-off community, even more than the Amish of Pennsylvania. In this 47-minute documentary, I embark on a journey to uncover the secrets of the Hasidics behind closed doors, and discover what makes their lifestyles so incredibly unique.
Guided in the beginning by my friend Abby Stein, a former Hasidic rabbi who is now a transgender author, I gain a fascinating insight into Hasidic life and customs from her perspective - both the good and the bad.
In our climax scene, I meet with @ShloimeZionce, a fellow traveler and YouTuber, who opens the doors to his home so I could document a traditional Shabbat dinner with his family. With the permission of a rabbi, we capture the essence of this essential weekly ritual and the warmth and hospitality of the Hasidic people. You can follow Shloime's adventures on his channel:
https://www.youtube.com/ShloimeZionce
This story is really fascinating and I'm really proud of how it came out. From the traditional clothing, music, and food to the strict gender roles and controversies surrounding the community, this documentary dives deep into every aspect of Hasidic life with a balanced portrayal of the good and the bad.
Join me on this captivating journey to experience the Hasidic Jews of Brooklyn, New York, like never seen before.
Follow @drewbinsky for more stories from EVERY country, and join me on
https://instagram.com/drewbinsky
👕 Thank you for making these travel videos possible by supporting my clothing brand, JUST GO 🌎:
https://shopjustgo.com/
👫 JOIN over 33,000 people in our JUST GO APP!
https://bit.ly/3iAZlnw
✈️ BOOK your next trip here:
https://travel.drewbinsky.com/
FIND ME ON SOCIAL MEDIA:
► IG:
https://www.instagram.com/drewbinsky/
► FB:
https://www.facebook.com/drewbinsky/
► Tik Tok:
https://www.tiktok.com/@drewbinsky
👨🏻‍🦰 WHO AM I?
I'm Drew Binsky and I have been to EVERY Country in the world (197/197). I make travel videos about people, culture, and anything else I find interesting on the road. My ultimate goal is to inspire you to travel far and wide because I think that traveling is the best education that you can get, and our planet is beautiful!
How I find music for my Videos:
- Tom Fox is a legendary musical artist:
https://tfbeats.com/
- Take your films to the next level w/ music from Musidbed:
http://share.mscbd.fm/drewbinsky
MOST POPULAR YOUTUBE VIDEOS:
► He Is The Ice Man:
http://y2u.be/VF8dkjEdKNo
► Tallest Humans on Earth:
http://y2u.be/u03kNQNclGY
► Why is Everything Free in Pakistan?:
http://y2u.be/CWeWxl7ruGE
► 3 Things You Can't Do in North Korea:
http://y2u.be/mNsx0Nqryos
► World's Strangest City:
http://y2u.be/hmIa2SGpm6s
🙏 GET IN TOUCH!
► Website:
https://world.drewbinsky.com/
► Email: partnerships@drewbinsky.com
*Some of the links or other products that appear on this video are from companies which I earn an affiliate commission or referral bonus at no additional cost to you. All opinions are my own. The content in this video is accurate as of the posting date. Some of the offers mentioned may no longer be available.
via Travels.Tube - Your travel video feed source!