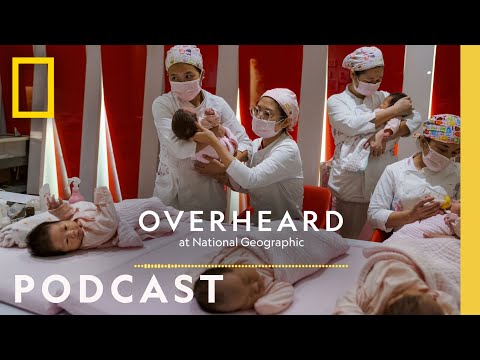 Chinese women are having fewer babies. China's population is declining, and the government wants to turn it around—but will it work?
There are more than 8 billion humans on Earth, according to the United Nations. And for decades, China has had more people than any other country. But now, China's population is declining. As soon as this year, it could lose its place as the most populous nation in the world. National Geographic photographer Justin Jin shares what he observed in this pivotal moment for China; he captured scenes where many young women are choosing not to have children, and instead are spending their money on doggie daycare and on karaoke nights with friends and male escorts. As we head into Women's History Month, we'll explore why Chinese women are taking a different path, despite the government campaigns pushing them to get married and have children.
Photo: Nurses at a postnatal center in Hangzhou tend to babies while their mothers recuperate. At a cost of tens of thousands of U.S. dollars, privately run centers like this one now offer new mothers the month of recovery—zuo yuezi—recommended in traditional Chinese medicine. The cost of raising children in modern China is a key factor in the country's declining population.
Photo by Justin Jin
➡ Subscribe:
http://bit.ly/NatGeoSubscribe
➡ Get more of Overheard at National Geographic here:
https://bit.ly/OverheardPodcast
➡ Catch up on all episodes of Overheard at National Geographic:
https://on.natgeo.com/3n9D3cF
You can also listen to the Overheard at National Geographic podcast on these platforms:
➡ Apple:
https://bit.ly/OverheardOnApple
➡ Spotify:
https://bit.ly/OverheardOnSpotify
➡ Stitcher:
https://bit.ly/OverheardOnStitcher
➡ Google Podcasts:
https://bit.ly/OverheardOnGoogle
➡ iHeart Radio:
https://bit.ly/OverheardOniHeart
➡ Castbox:
https://bit.ly/OverheardOnCastbox
#NationalGeographic #Overheard #Podcast
About Overheard at National Geographic:
Documenting democracy, Untwisting the world's largest tornado. Searching for wrecks of lost slave ships. Dinosaur hunting in Morocco. Accidentally inventing a new color. Come dive into one of the curiously delightful conversations overheard at National Geographic's headquarters, as we follow explorers, photographers, and scientists to the edges of our big, weird, beautiful world. Hosted by Peter Gwin and Amy Briggs.
About National Geographic:
National Geographic is the world's premium destination for science, exploration, and adventure. Through their world-class scientists, photographers, journalists, and filmmakers, Nat Geo gets you closer to the stories that matter and past the edge of what's possible.
Get More National Geographic:
Official Site:
http://bit.ly/NatGeoOfficialSite
Facebook:
http://bit.ly/FBNatGeo
Twitter:
http://bit.ly/NatGeoTwitter
Instagram:
http://bit.ly/NatGeoInsta
TikTok:
http://www.tiktok.com/@natgeo
Tenor:
http://on.natgeo.com/31b3Koc
What Women in China Want | Podcast | Overheard at National Geographic
https://youtu.be/ctvhCaZ1iCQ
National Geographic
https://www.youtube.com/natgeo
via Travels.Tube - Your travel video feed source!