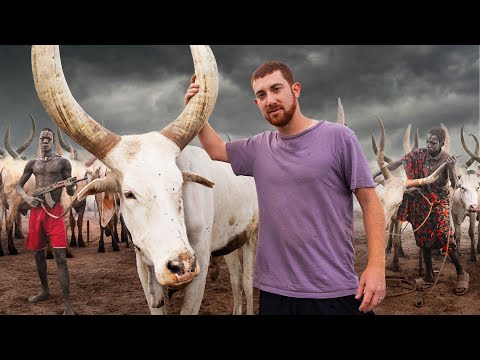 Get the Full UNCENSORED version of this video, plus 30 min of Deleted Scenes & Extra Footage:
https://www.drewbinskyuncensored.com/
✅ SUBSCRIBE for More Travel Videos:
http://bit.ly/2hyQnZ1
📝 Get My Top 100 Travel Pics FREE!
https://bit.ly/3Fsk0qo
What an adventure!! I feel like this documentary takes me back to my roots in storytelling. It's a piece that I've been wanting to tell for more than 5 years now, and I'm so glad by how it turned out!
I just spent 2 days living with the Mundari Tribe in rural SOUTH SUDAN and it was an incredible and humbling experience. After spending most of my life in busy cities, it was so refreshing to witness how the Mundari's live such simple, genuine lives - far removed from the stresses of the Western World - yet they remain so happy and so close to nature.
The Mundaris are known as the "Cow Tribe" because they live among their cows (literally, thousands of them) and utilize their cattle for food, trade, dowry and survival. After spending 48 hours with the Mundari tribe, I learned that it's the simple moments in life that matter most - like family time and laughter.
I actually posted this video on YouTube a few weeks ago, but it got flagged and demonetized for various parts (i.e. the urine shower), so my team and I have blurred out all of the best parts (sadly) and this is the PG-13 version that you are watching. If you want to experience the FULL UNCENSORED version of this video, with no blurs and 30+ minutes of deleted scenes and extended interviews, then you can head to my website:
https://www.drewbinskyuncensored.com/.
The video is available on a pay-what-you-want model, and your contribution goes directly into helping me continue to tell epic stories around the world like this one. If you donate $50 or more in the next 3 days, then you'll be invited to join me in an exclusive Zoom Q&A call on April 5th. Thank you for supporting me as an independent filmmaker - I love you all!
Follow on Instagram!
https://www.instagram.com/drewbinsky/
👕 Thank you for making these travel videos possible by supporting my clothing brand, JUST GO 🌎:
https://shopjustgo.com/
👫 JOIN over 35,000 people in our JUST GO APP!
https://bit.ly/3iAZlnw
✈️ BOOK your next trip here:
https://travel.drewbinsky.com/
FIND ME ON SOCIAL MEDIA:
► IG:
https://www.instagram.com/drewbinsky/
► FB:
https://www.facebook.com/drewbinsky/
► Tik Tok:
https://www.tiktok.com/@drewbinsky
👨🏻‍🦰 WHO AM I?
I'm Drew Binsky and I have been to EVERY Country in the world (197/197). I make travel videos about people, culture, and anything else I find interesting on the road. My ultimate goal is to inspire you to travel far and wide because I think that traveling is the best education that you can get, and our planet is beautiful!
How I find music for my Videos:
- Tom Fox is a legendary musical artist:
https://tfbeats.com/
- Take your films to the next level w/ music from Musidbed:
http://share.mscbd.fm/drewbinsky
MOST POPULAR YOUTUBE VIDEOS:
► He Is The Ice Man:
http://y2u.be/VF8dkjEdKNo
► Tallest Humans on Earth:
http://y2u.be/u03kNQNclGY
► Why is Everything Free in Pakistan?:
http://y2u.be/CWeWxl7ruGE
► 3 Things You Can't Do in North Korea:
http://y2u.be/mNsx0Nqryos
► World's Strangest City:
http://y2u.be/hmIa2SGpm6s
🙏 GET IN TOUCH!
► Website:
https://world.drewbinsky.com/
► Email: partnerships@drewbinsky.com
*Some of the links or other products that appear on this video are from companies which I earn an affiliate commission or referral bonus at no additional cost to you. All opinions are my own. The content in this video is accurate as of the posting date. Some of the offers mentioned may no longer be available.
via Travels.Tube - Your travel video feed source!