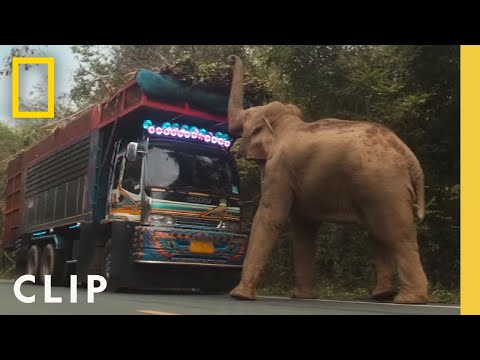 Elephant bull known locally as 'The Don' acts as Highway Toll Collector in Thailand by taking small amounts of sugar cane from trucks that use the highway; and can sniff them out when they are on their way. Check out even more coverage on elephants this month, including #SecretsOfTheElephants, a four-part National Geographic series now streaming on DisneyPlus and Hulu. Visit NatGeo.com/elephants to learn more.
➡ Subscribe:
http://bit.ly/NatGeoSubscribe
#NationalGeographic #SecretsOfTheElephants
About Secrets of the Elephants:
Elephants are powerful, loving and wise, but we are only starting to unlock their deepest secrets. The ground-breaking, award-winning natural history franchise Secrets Of returns with its next installment, Secrets of the Elephants. From Academy Award®-winning filmmaker and National Geographic Explorer-at-Large James Cameron, the series travels the world — from the Savannahs of Africa to the urban landscapes of Asia — to discover the strategic thinking, complex emotions and sophisticated language of elephants, shaping a unique and dynamic culture. Narrated by Academy Award-winning actress Natalie Portman and featuring renowned National Geographic Explorer and elephant expert Dr. Paula Kahumbu, the four-part series not only reveals the extraordinary lives of different families of elephants but also highlights how similar they are to us. Secrets of the Elephants will change everything you thought you knew about elephants forever.
About National Geographic:
National Geographic is the world's premium destination for science, exploration, and adventure. Through their world-class scientists, photographers, journalists, and filmmakers, Nat Geo gets you closer to the stories that matter and past the edge of what's possible.
Get More National Geographic:
Official Site:
http://bit.ly/NatGeoOfficialSite
Facebook:
http://bit.ly/FBNatGeo
Twitter:
http://bit.ly/NatGeoTwitter
Instagram:
http://bit.ly/NatGeoInsta
TikTok:
http://www.tiktok.com/@natgeo
Tenor:
http://on.natgeo.com/31b3Koc
Elephant Cleverly Steals Sugar Cane off a Truck in Thailand | Secrets of the Elephants
https://youtu.be/qsT6dy8PLGk
National Geographic
https://www.youtube.com/natgeo
via Travels.Tube - Your travel video feed source!