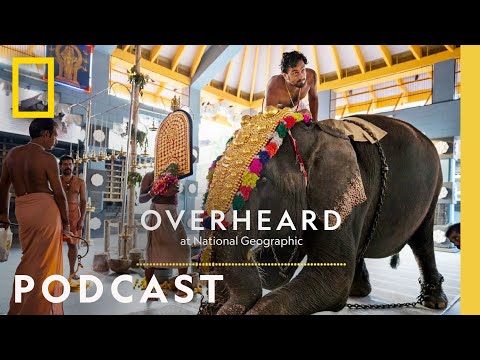 For thousands of years, people in India have captured elephants to serve as war machines, beasts of burden, and part of religious festivals. And while they're revered like gods, and adorned with embroidered garments and jewelry in parades, National Geographic Explorers Sangita Iyer and Jyothy Karat say these endangered Asian elephants are often living in distress and are mistreated by their handlers. Iyer and Karat tell us what life for India's temple elephants are like and we'll hear about a possible way for Indians to celebrate elephants with new robotics technology.
Credit: HRISSUR, KERALA, INDIA: An elephant attends a temple ceremony at Thrissur, Kerala, India. Elephants have become increasingly popular at religious festivals in Kerala, for centuries they have been used by the Hindu faithful because of their role in Hinduism and also as a symbol of power. In recent years both Christian and Islamic factions have introduced elephants into their festival. As a result, these elephants have become heavily overused during the festival period. They have little rest, are surrounded by a roaring crowd, loud music, and concussive fireworks. Elephants that are in musth have also been used, despite their increased aggression in this period. Accidents and killings have been commonplace, panicked and aggressive elephants have killed a number of spectators, as recently as January 2013 an elephant killed 3 woman spectators yet was allowed to continue performing. The elephant owners charge large fees for appearances and there are devout, fanatical followings for individual elephants. Despite the danger, people continue to flock to these events. Elephants are typically wild animals who have been caught and broken, then trained to obey commands. Elephants in Kerala spend their whole lives chained, living in small spaces like open air prisons and performing manual labor or appearing at these festivals.
Photo by Brent Stirton, National Geographic
➡ Subscribe:
http://bit.ly/NatGeoSubscribe
➡ Get more of Overheard at National Geographic here:
https://bit.ly/OverheardPodcast
➡ Catch up on all episodes of Overheard at National Geographic:
https://on.natgeo.com/3n9D3cF
You can also listen to the Overheard at National Geographic podcast on these platforms:
➡ Apple:
https://bit.ly/OverheardOnApple
➡ Spotify:
https://bit.ly/OverheardOnSpotify
➡ Stitcher:
https://bit.ly/OverheardOnStitcher
➡ Google Podcasts:
https://bit.ly/OverheardOnGoogle
➡ iHeart Radio:
https://bit.ly/OverheardOniHeart
➡ Castbox:
https://bit.ly/OverheardOnCastbox
#NationalGeographic #Overheard #Podcast
About Overheard at National Geographic:
Documenting democracy, Untwisting the world's largest tornado. Searching for wrecks of lost slave ships. Dinosaur hunting in Morocco. Accidentally inventing a new color. Come dive into one of the curiously delightful conversations overheard at National Geographic's headquarters, as we follow explorers, photographers, and scientists to the edges of our big, weird, beautiful world. Hosted by Peter Gwin and Amy Briggs.
About National Geographic:
National Geographic is the world's premium destination for science, exploration, and adventure. Through their world-class scientists, photographers, journalists, and filmmakers, Nat Geo gets you closer to the stories that matter and past the edge of what's possible.
Get More National Geographic:
Official Site:
http://bit.ly/NatGeoOfficialSite
Facebook:
http://bit.ly/FBNatGeo
Twitter:
http://bit.ly/NatGeoTwitter
Instagram:
http://bit.ly/NatGeoInsta
TikTok:
http://www.tiktok.com/@natgeo
Tenor:
http://on.natgeo.com/31b3Koc
The Dark Reality Behind India's Festival Elephants | Podcast | Overheard at National Geographic
https://youtu.be/vyec-LYaeq8
National Geographic
https://www.youtube.com/natgeo
via Travels.Tube - Your travel video feed source!