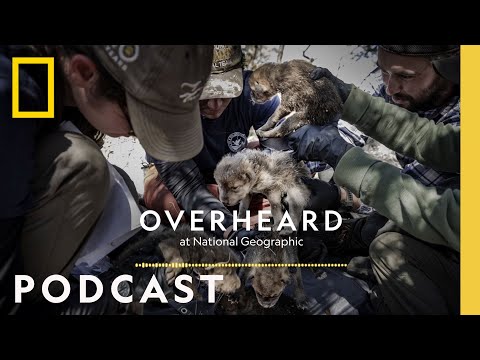 For centuries, Mexican gray wolves roamed the Southwest. But as cattle ranches spread, wolves became enemy number one, and by the 1970s the subspecies was nearly extinct. But after the Endangered Species Act was passed, the U.S. embarked on an ambitious plan to save the iconic predators. We'll meet the Texas trapper who switched from killing wolves to catching them to breed. And we'll follow a team of biologists into the Gila Wilderness to introduce captive-born wolf pups into the wild.
Photo Caption: Mexican gray wolf pups born at Chicago's Brookfield Zoo fly to the Gila National Forest in New Mexico. They are introduced to the wild as part of a cross-fostering program.
Credit: Photograph by Katie Orlinsky, National Geographic
➡ Subscribe:
http://bit.ly/NatGeoSubscribe
➡ Get more of Overheard at National Geographic here:
https://bit.ly/OverheardPodcast
➡ Catch up on all episodes of Overheard at National Geographic:
https://on.natgeo.com/3n9D3cF
You can also listen to the Overheard at National Geographic podcast on these platforms:
➡ Apple:
https://bit.ly/OverheardOnApple
➡ Spotify:
https://bit.ly/OverheardOnSpotify
➡ Stitcher:
https://bit.ly/OverheardOnStitcher
➡ Google Podcasts:
https://bit.ly/OverheardOnGoogle
➡ iHeart Radio:
https://bit.ly/OverheardOniHeart
➡ Castbox:
https://bit.ly/OverheardOnCastbox
#NationalGeographic #Overheard #Podcast
About Overheard at National Geographic:
Documenting democracy, Untwisting the world's largest tornado. Searching for wrecks of lost slave ships. Dinosaur hunting in Morocco. Accidentally inventing a new color. Come dive into one of the curiously delightful conversations overheard at National Geographic's headquarters, as we follow explorers, photographers, and scientists to the edges of our big, weird, beautiful world. Hosted by Peter Gwin and Amy Briggs.
About National Geographic:
National Geographic is the world's premium destination for science, exploration, and adventure. Through their world-class scientists, photographers, journalists, and filmmakers, Nat Geo gets you closer to the stories that matter and past the edge of what's possible.
Get More National Geographic:
Official Site:
http://bit.ly/NatGeoOfficialSite
Facebook:
http://bit.ly/FBNatGeo
Twitter:
http://bit.ly/NatGeoTwitter
Instagram:
http://bit.ly/NatGeoInsta
TikTok:
http://www.tiktok.com/@natgeo
Tenor:
http://on.natgeo.com/31b3Koc
A Mexican Wolf Pup's Journey into the Wild | Podcast | Overheard at National Geographic
https://youtu.be/jog-YSfpwCI
National Geographic
https://www.youtube.com/natgeo
via Travels.Tube - Your travel video feed source!