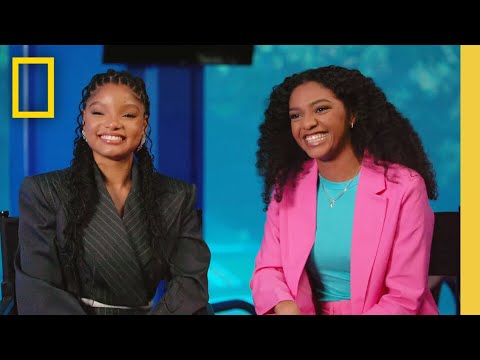 Executive Editor Debra Adams Simmons sits down with Halle Bailey, "Ariel" in Disney's new movie The Little Mermaid, and Aliyah Griffith, Marine Scientist, National Geographic Explorer, and Founder of Mahogany Mermaids. From mermaids to the aquatic sciences, these young women will discuss the importance and impact of their roles and how they're making big waves for a new generation. Watch Disney's The Little Mermaid, now playing only in theaters.
National Geographic Explorer Aliyah Griffith has immersed herself in science communication, coral reef research, and STEM educational outreach. Griffith's current research focuses on the impacts of climate change on coral reef composition and management in Barbados. In 2016, she created Mahogany Mermaids, a non-profit that provides scholarships, academic resources, and support to students of color who have an interest in pursuing a career in the aquatic sciences. (She also recently authored a children's book, My Secret Mermaid, to highlight the different careers in aquariums and how children can discover the wonders of the ocean just outside their homes.) To learn more about the National Geographic Society's support of Explorers like Aliyah, visit
http://natgeo.com/impact
➡ Subscribe:
http://bit.ly/NatGeoSubscribe
#NationalGeographic #TheLittleMermaid
About National Geographic:
National Geographic is the world's premium destination for science, exploration, and adventure. Through their world-class scientists, photographers, journalists, and filmmakers, Nat Geo gets you closer to the stories that matter and past the edge of what's possible.
Get More National Geographic:
Official Site:
http://bit.ly/NatGeoOfficialSite
Facebook:
http://bit.ly/FBNatGeo
Twitter:
http://bit.ly/NatGeoTwitter
Instagram:
http://bit.ly/NatGeoInsta
TikTok:
http://www.tiktok.com/@natgeo
Tenor:
http://on.natgeo.com/31b3Koc
Halle Bailey Sits Down with Nat Geo Explorer Aliyah Griffith | National Geographic
https://youtu.be/VFIRzbkyGDw
National Geographic
https://www.youtube.com/natgeo
via Travels.Tube - Your travel video feed source!