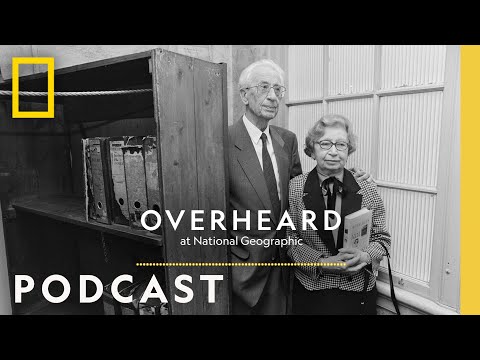 Most people have heard the name Anne Frank, and many have read her diary, which details her and her family's time spent in hiding during the German occupation of Amsterdam in World War II. Less known are Miep and Jan Gies, two people who helped shelter the Frank family and preserved Anne Frank's diary after she was captured. In this episode, Alison Leslie Gold, who co-authored Miep's memoir, shares their history and what we can take away from their stories. And we'll hear from the co-creators and star of the National Geographic limited series A Small Light about how anyone can step up and be a hero.
Photo caption: Miep Gies (right) and her husband Jan return to the house where the Frank family hid. When Gies visited the "secret annex" housing the Frank family and four other people, she recalled, "They would silently look up to me, except for Anne, who in a cheerful tone used to say, 'Hello, Miep. And what is the news?'"
Photo public domain sourced / access rights from BNA Photographic / Alamy Stock Photo
➡ Subscribe:
http://bit.ly/NatGeoSubscribe
➡ Get more of Overheard at National Geographic here:
https://bit.ly/OverheardPodcast
➡ Catch up on all episodes of Overheard at National Geographic:
https://on.natgeo.com/3n9D3cF
You can also listen to the Overheard at National Geographic podcast on these platforms:
➡ Apple:
https://bit.ly/OverheardOnApple
➡ Spotify:
https://bit.ly/OverheardOnSpotify
➡ Stitcher:
https://bit.ly/OverheardOnStitcher
➡ Google Podcasts:
https://bit.ly/OverheardOnGoogle
➡ iHeart Radio:
https://bit.ly/OverheardOniHeart
➡ Castbox:
https://bit.ly/OverheardOnCastbox
#NationalGeographic #Overheard #Podcast
About Overheard at National Geographic:
Documenting democracy, Untwisting the world's largest tornado. Searching for wrecks of lost slave ships. Dinosaur hunting in Morocco. Accidentally inventing a new color. Come dive into one of the curiously delightful conversations overheard at National Geographic's headquarters, as we follow explorers, photographers, and scientists to the edges of our big, weird, beautiful world. Hosted by Peter Gwin and Amy Briggs.
About National Geographic:
National Geographic is the world's premium destination for science, exploration, and adventure. Through their world-class scientists, photographers, journalists, and filmmakers, Nat Geo gets you closer to the stories that matter and past the edge of what's possible.
Get More National Geographic:
Official Site:
http://bit.ly/NatGeoOfficialSite
Facebook:
http://bit.ly/FBNatGeo
Twitter:
http://bit.ly/NatGeoTwitter
Instagram:
http://bit.ly/NatGeoInsta
TikTok:
http://www.tiktok.com/@natgeo
Tenor:
http://on.natgeo.com/31b3Koc
How Anne Frank's Diary Survived | Podcast | Overheard at National Geographic
https://youtu.be/3XCEXlleQd0
National Geographic
https://www.youtube.com/natgeo
via Travels.Tube - Your travel video feed source!