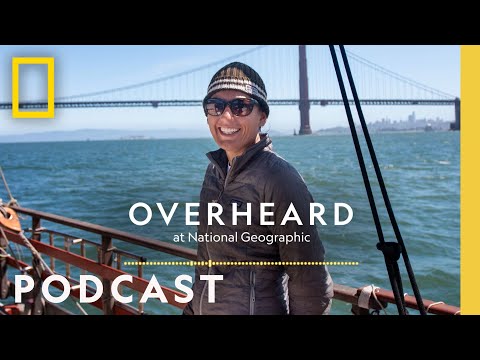 For nearly 50 years, a group of Hawaiians have been sailing on traditional voyaging canoes using the methods that early Polynesian explorers relied on to navigate the Pacific Ocean—without maps and modern instruments, and relying on the stars, ocean waves, birds, and other natural elements to guide them. We meet National Geographic Explorer Lehua Kamalu, the first woman to captain a long-distance voyage on Hōkūleʻa, the first Polynesian canoe built in modern times. She describes what it's like to navigate in incredibly rough waters, what it means to keep Polynesian navigation alive in the 21st century, and about her next big adventure: a four-year circumnavigation of the Pacific Ocean.
Caption: Lehua Kamalu on voyaging canoe Hikianalia as it approaches the Golden Gate Bridge in San Francisco during the California Voyage in 2018.
Credit: Photograph by Hye Jung Kim/Polynesian Voyaging Society, National Geographic
➡ Subscribe:
http://bit.ly/NatGeoSubscribe
➡ Get more of Overheard at National Geographic here:
https://bit.ly/OverheardPodcast
➡ Catch up on all episodes of Overheard at National Geographic:
https://on.natgeo.com/3n9D3cF
You can also listen to the Overheard at National Geographic podcast on these platforms:
➡ Apple:
https://bit.ly/OverheardOnApple
➡ Spotify:
https://bit.ly/OverheardOnSpotify
➡ Stitcher:
https://bit.ly/OverheardOnStitcher
➡ Google Podcasts:
https://bit.ly/OverheardOnGoogle
➡ iHeart Radio:
https://bit.ly/OverheardOniHeart
➡ Castbox:
https://bit.ly/OverheardOnCastbox
#NationalGeographic #Overheard #Podcast
About Overheard at National Geographic:
Documenting democracy, Untwisting the world's largest tornado. Searching for wrecks of lost slave ships. Dinosaur hunting in Morocco. Accidentally inventing a new color. Come dive into one of the curiously delightful conversations overheard at National Geographic's headquarters, as we follow explorers, photographers, and scientists to the edges of our big, weird, beautiful world. Hosted by Peter Gwin and Amy Briggs.
About National Geographic:
National Geographic is the world's premium destination for science, exploration, and adventure. Through their world-class scientists, photographers, journalists, and filmmakers, Nat Geo gets you closer to the stories that matter and past the edge of what's possible.
Get More National Geographic:
Official Site:
http://bit.ly/NatGeoOfficialSite
Facebook:
http://bit.ly/FBNatGeo
Twitter:
http://bit.ly/NatGeoTwitter
Instagram:
http://bit.ly/NatGeoInsta
TikTok:
http://www.tiktok.com/@natgeo
Tenor:
http://on.natgeo.com/31b3Koc
She Sails the Seas Without Maps or Compasses | Podcast | Overheard at National Geographic
https://youtu.be/vik-l7uWO7I
National Geographic
https://www.youtube.com/natgeo
via Travels.Tube - Your travel video feed source!