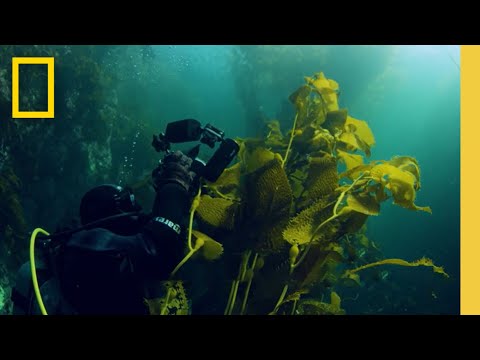 Canoeros: Memoria Viva (2022) follows National Geographic Pristine Seas as they conduct an expedition with members of the Kawésqar and Yagán indigenous peoples in the Kawésqar National Reserve in southern Chile. Together they explore some of the most unique and least studied marine regions on the planet, including vast kelp forests, glaciers and fjords, in an effort to protect them against threats posed from ongoing salmon farming in the preserve.
Canoeros: Memoria Viva (2022) muestra a National Geographic Pristine Seas en una expedición con miembros de los pueblos indígenas Kawésqar y Yagán en la Reserva Nacional Kawésqar, en el sur de Chile. Juntos exploran algunas de las regiones marinas más singulares y menos estudiadas del planeta, incluidos vastos bosques de algas, glaciares y fiordos, en un esfuerzo por protegerlos de las amenazas que plantea el cultivo de salmón en la reserva.
➡ Subscribe:
http://bit.ly/NatGeoSubscribe
#NationalGeographic #PristineSeas
About National Geographic Pristine Seas:
National Geographic Pristine Seas is an exploration, research and media project founded and led by National Geographic Explorer in Residence Enric Sala. The Pristine Seas team is comprised of determined scientists, policy experts and filmmakers who work to inspire the creation of protected areas where marine life can thrive—while ensuring effective management for years to come. Pristine Seas has helped to inspire the creation of 26 marine reserves, an area totalling over 6.5M square kilometers. Learn more at nationalgeographic.org/pristineseas.
Learn more about Pristine Seas here:
https://on.natgeo.com/2VA8HEk
About National Geographic:
National Geographic is the world's premium destination for science, exploration, and adventure. Through their world-class scientists, photographers, journalists, and filmmakers, Nat Geo gets you closer to the stories that matter and past the edge of what's possible.
Get More National Geographic:
Official Site:
http://bit.ly/NatGeoOfficialSite
Facebook:
http://bit.ly/FBNatGeo
Twitter:
http://bit.ly/NatGeoTwitter
Instagram:
http://bit.ly/NatGeoInsta
TikTok:
http://www.tiktok.com/@natgeo
Tenor:
http://on.natgeo.com/31b3Koc
Canoeros: Memoria Viva (2022) | Pristine Seas | National Geographic Society
https://youtu.be/Bl2OktK_808
National Geographic
https://www.youtube.com/natgeo
via Travels.Tube - Your travel video feed source!