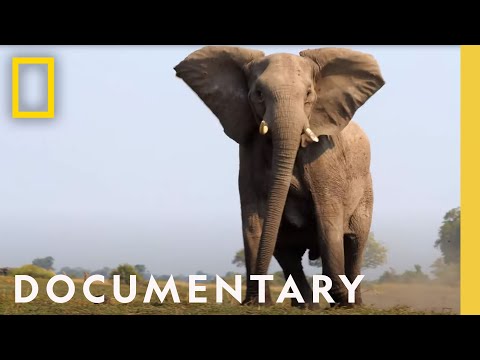 Kwando tells the story of a young Angolan fisherman, haunted by his past as a child soldier and unsure of his future, who joins a team of international scientists with the National Geographic Okavango Wilderness Project to explore one of Angola's most remote, mythical rivers. Through hardships, scientific discoveries and his own growing interest in birds, he finds hope for a new future for his homeland - one that involves protecting this magnificent landscape for future generations.
Since 2015, the National Geographic Okavango Wilderness Project has been working with governments and communities to protect this remote Angolan landscape - known as 'Lisima Lya Mwono,' or "the source of life" - which feeds the Okavango Delta and provides water for one million people and some of Africa's most iconic wildlife.
Kwando conta a história de um jovem pescador Angolano, assombrado pelo seu passado como soldado criança e incerto sobre o seu futuro, que se junta a uma equipa de cientistas internacionais do Projecto da National Geographic de Vida Selvagem do Okavango, para explorar um dos mais remotos e míticos rios de Angola. Por entre dificuldades, descobertas científicas e o seu próprio interesse em aves, ele encontra esperança para um novo futuro para a sua terra - um que envolve proteger esta magnífica paisagem para gerações futuras.
Learn more about the National Geographic Okavango Wilderness Project: natgeo.org/okavango
https://www.facebook.com/okavangowildernessproject/
https://www.instagram.com/intotheokavango/?hl=en
➡ Subscribe:
http://bit.ly/NatGeoSubscribe
#NationalGeographic #Kwando
About National Geographic:
National Geographic is the world's premium destination for science, exploration, and adventure. Through their world-class scientists, photographers, journalists, and filmmakers, Nat Geo gets you closer to the stories that matter and past the edge of what's possible.
Get More National Geographic:
Official Site:
http://bit.ly/NatGeoOfficialSite
Facebook:
http://bit.ly/FBNatGeo
Twitter:
http://bit.ly/NatGeoTwitter
Instagram:
http://bit.ly/NatGeoInsta
TikTok:
http://www.tiktok.com/@natgeo
Tenor:
http://on.natgeo.com/31b3Koc
Kwando (2019) | Documentary | National Geographic Okavango Wilderness Project
https://youtu.be/ZavNKXumZ9o
National Geographic
https://www.youtube.com/natgeo
via Travels.Tube - Your travel video feed source!