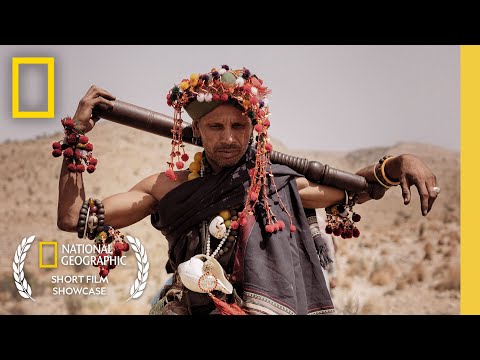 On an intense spiritual quest, Qismat Ali wraps himself in iron bells and embarks on a grueling 200-kilometer pilgrimage across the scorching deserts of Pakistan. Filmmakers Matthieu Paley and Sebastian Feehan met while on assignment, both drawn to far-flung places. Paley spoke of a mysterious group of Sufi pilgrims he encountered in 2008 wearing bells and chains. They had told him of their journey across Pakistan's inhospitable desert. Last year, the duo went in search of the pilgrims, who accepted these strangers into their circle. They followed in their footsteps, ate together, shared the little available water, slept under the stars. They all walked fast and purposefully. This is a story of a group who are tough yet tender and whose devotion endures in the name of love, connection, and tradition. The filmmakers shine a light on a part of the world and a group that are underrepresented and often misunderstood.
The Short Film Showcase spotlights exceptional short videos created by filmmakers from around the web and selected by National Geographic editors. We look for work that affirms National Geographic's belief in the power of science, exploration, and storytelling to change the world. The filmmakers created the content presented, and the opinions expressed are their own, not those of National Geographic Partners.
Documentary director Sebastian Feehan has been telling intimate human stories for over 10 years. His films have been recognised at Sheffield Doc/Fest, the Griersons, Raindance, and BFI London Film Festival. He's currently finishing his latest feature documentary, Life on the Edge, a redemption story set in Greenland, exploring mental health, loss of culture, and climate change.
Instagram: @sebfeehan
sebastianfeehan.com
For over 20 years, photographer Matthieu Paley has traveled the world for National Geographic magazine, focusing his efforts on documenting subcultures, sometimes for decades, such as the unforgiving life of Afghanistan's Kyrgyz nomads. He's been recognized by the World Press awards. Over the course of his career, Matthieu learned seven languages, feeding his passion to connect with people.
Instagram: @paleyphoto
Paleyphoto.com
CREDITS
Production: Next Door Films
Directed & Produced by: Sebastian Feehan & Matthieu Paley
Fixers: Pir Faraz Ali & Sajjad Ali
DOP: Sebastian Feehan
Drone: Matthieu Paley
Translator: Mohammed Ibrahim
Editor: Sebastian Feehan
Colourist: Adam Clarke
Composers & Sound Editors: Olly Howells & Luke Welsby (Owls Audio)
Sound Designer & Re-Recording Mixer: Gustaf Jackson
Special Thanks: Qismat Ali, Haji Baba, Sultan Baba, Sultan Faqeer, Manzoor Ahmad, Afzal Ali, Raja Aslam, Humayun Memon & All Lahootis
Next Door Films Ltd. © 2023
➡ Subscribe:
http://bit.ly/NatGeoSubscribe
#NationalGeographic #Lahooti #ShortFilmShowcase
About National Geographic:
National Geographic is the world's premium destination for science, exploration, and adventure. Through their world-class scientists, photographers, journalists, and filmmakers, Nat Geo gets you closer to the stories that matter and past the edge of what's possible.
Get More National Geographic:
Official Site:
http://bit.ly/NatGeoOfficialSite
Facebook:
http://bit.ly/FBNatGeo
Twitter:
http://bit.ly/NatGeoTwitter
Instagram:
http://bit.ly/NatGeoInsta
TikTok:
http://www.tiktok.com/@natgeo
Tenor:
http://on.natgeo.com/31b3Koc
Lahooti | Short Film Showcase | National Geographic
https://youtu.be/TaV_lH1x5vE
National Geographic
https://www.youtube.com/natgeo
via Travels.Tube - Your travel video feed source!