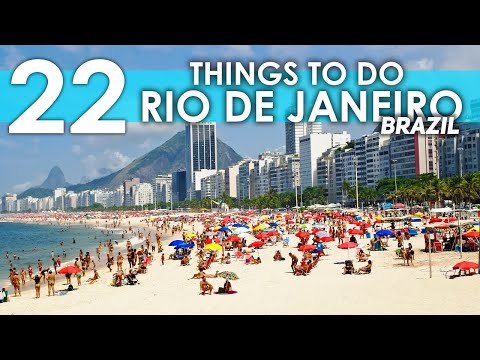 RIO DE JANEIRO, BRAZIL: Are you searching for the best things to do in Rio De Janeiro for 2023? Today we show you 22 things to see and do in Rio De Janeiro. In this Rio De Janeiro travel vlog we go to Corcovado, up to the Christ the Redeemer, Walk around Urca and the steps of Seleron. We show you the beaches like Copacabana, Ipanema and Leblon and some of the local food in Rio De Janeiro. We also show you Lapa and Santa Teresa and other favelas around Rio. We did several Rio travel videos including a Rio De Janeiro travel video and showed you around some of the beaches and talked about safety in Rio.

If you enjoy this Rio De Janeiro travel vlog and have any questions please feel free to ask. We love showing you around the Rio attractions and where to go in Rio De Janeiro.

More South America and Brazil Travel Videos:

0:00 Rio De Janeiro INTRO
0:41 Sugar Loaf Mountain
1:28 Corcovado
1:52 Christ The Redeemer
2:28 Arraial do Cabo
3:12 Rocinha Favela
4:01 Copacabana
5:17 Leblon
5:46 Escadaria Selarón
6:40 Ipanema Beach
7:55 Carnival
8:16 local food
8:44 Praia da Urca
9:13 Rio Star
9:36 Museum of Tomorrow
9:51 Dance Lessons
10:19 Brazilian Football
10:57 Lapa
11:25 Lapa Arches
11:57 Candalaria Church
12:19 Mira Donna Marta
12:43 Metropolitan Cathedral
13:12 Basilica of Penha


Island Hopper TV takes you around the world to the premiere travel destinations. Our virtual travel guides from across America to Asia, Europe and Australia have assisted many world travelers in educating themselves on their next destination to travel or even vacation.


Watch at: https://www.youtube.com/watch?v=Tz-PIx6ncRYYouTube