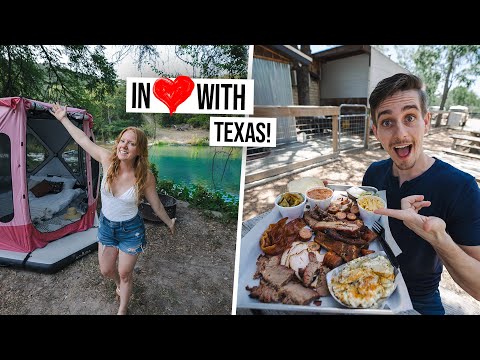 Howdy y'all! We're hitting up all our favorite spots in the Texas hill country! We might be in the middle of a heatwave, but that's not going to stop us from trying some of the best BBQ in texas, and showing you all that the hill country has to offer 😍 Checkout Space Acacia! https://theacacia.com/

Pig Pen BBQ - https://goo.gl/maps/DLHfyYbNrBQ5yNms8
Soggy Dollar RV Park - https://goo.gl/maps/U55GtdW7Vipq9Sy66
Hawk's Shadow Winery - https://goo.gl/maps/C4DeEueZMBRPJc6T6
Gruene Hall - https://goo.gl/maps/RpnTAkum7ea2vNG2A
https://goo.gl/maps/Voy4VqCpVuzKHu6T8

PREVIOUS VIDEO: ▶ Crossing The ENTIRE USA in our RV! Why Are We Headed To TEXAS?? | RV Life USA https://youtu.be/s5E7_rfGfFI

★ ACCESS SECRET VIDEOS & PERKS! ★
Supporters get access to never before seen vlogs and more! ► http://bit.ly/tea-patreon

★ MERCH ★
Get Your T.E.A. Merch!! http://store.theendlessadventure.com

★ MUSIC ★
Access Thousands of FREE Songs for YOUR VIDEOS with Epidemic Sound! http://share.epidemicsound.com/lTZRW

== OUR FILMING GEAR ==
★ Camera - https://amzn.to/3lcXF52
★ Lens - https://amzn.to/3WbgHKl
★ Microphone - https://amzn.to/2KYEMCi
★ Drone - https://amzn.to/3gQqANb
★ GoPro Hero 10 https://amzn.to/3MgT51f
★ Camera Belt Clip - https://amzn.to/2umw0DU
★ Large Tripod - https://amzn.to/34BYvye
★ Small Tripod - https://amzn.to/2u5iZ24

BROWSE ALL OF OUR GEAR ► http://bit.ly/tea-travel-gear

Above are affiliate links which means we receive a percentage of the revenue made from purchasing products via those links.

== Follow Us ==
❤ Twitter - http://twitter.com/the_endless_a
❤ Facebook - https://www.facebook.com/TheEndlessAdventurers/
❤ Instagram - http://instagram.com/theendlessadventure
❤ Travel Blog - http://theendlessadventure.co

== About Us ==
We're Eric & Allison and we're on a journey to find the most interesting places and unique foods this planet has to offer! We've traded in our steady paychecks and permanent home for a life of travel and adventure. Come along and see the world with us!


Watch at: https://www.youtube.com/watch?v=pXZDRMtommkYouTube