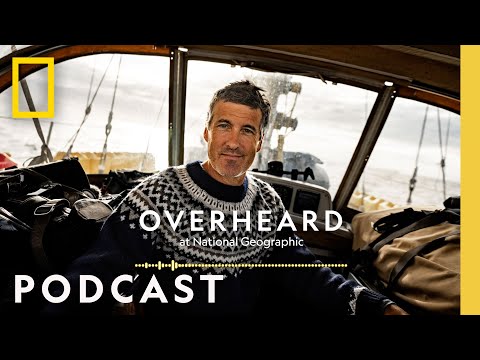 On the trail of a doomed 19th century polar expedition, modern explorers met the same danger: devastating, unpredictable sea ice.
For centuries, the Northwest Passage, the long-sought sea route connecting the Atlantic and Pacific Oceans through northern Canada, was a holy grail of Arctic exploration. Even now, sailing through it isn't guaranteed. Mark Synnott, a National Geographic Explorer, writer, and adventurer, attempted to sail his own boat through the Northwest Passage to retrace the doomed 1845 expedition of British explorer Sir John Franklin. None of the Franklin expedition's 129 men made it home, but what exactly happened remains a mystery.
Photo Caption
Mark Synnott poses for a portrait aboard his sailboat, Polar Sun. The Arctic, Synnott says, is "pretty much the most magical place on Earth." But when sea ice cornered Synnott and Polar Sun into a Canadian bay while traversing the Northwest Passage, the scene felt less magical and more like a punch to the gut.
Credit: Photograph by Renan Ozturk, National Geographic
➡ Subscribe:
http://bit.ly/NatGeoSubscribe
➡ Get more of Overheard at National Geographic here:
https://bit.ly/OverheardPodcast
➡ Catch up on all episodes of Overheard at National Geographic:
https://on.natgeo.com/3n9D3cF
You can also listen to the Overheard at National Geographic podcast on these platforms:
➡ Apple:
https://bit.ly/OverheardOnApple
➡ Spotify:
https://bit.ly/OverheardOnSpotify
➡ Stitcher:
https://bit.ly/OverheardOnStitcher
➡ Google Podcasts:
https://bit.ly/OverheardOnGoogle
➡ iHeart Radio:
https://bit.ly/OverheardOniHeart
➡ Castbox:
https://bit.ly/OverheardOnCastbox
#NationalGeographic #Overheard #Podcast
About Overheard at National Geographic:
Documenting democracy, Untwisting the world's largest tornado. Searching for wrecks of lost slave ships. Dinosaur hunting in Morocco. Accidentally inventing a new color. Come dive into one of the curiously delightful conversations overheard at National Geographic's headquarters, as we follow explorers, photographers, and scientists to the edges of our big, weird, beautiful world. Hosted by Peter Gwin and Amy Briggs.
About National Geographic:
National Geographic is the world's premium destination for science, exploration, and adventure. Through their world-class scientists, photographers, journalists, and filmmakers, Nat Geo gets you closer to the stories that matter and past the edge of what's possible.
Get More National Geographic:
Official Site:
http://bit.ly/NatGeoOfficialSite
Facebook:
http://bit.ly/FBNatGeo
Twitter:
http://bit.ly/NatGeoTwitter
Instagram:
http://bit.ly/NatGeoInsta
TikTok:
http://www.tiktok.com/@natgeo
Tenor:
http://on.natgeo.com/31b3Koc
Trapped in the icy waters of the Northwest Passage | Podcast | Overheard at National Geographic
https://youtu.be/zrXTPe3mlg4
National Geographic
https://www.youtube.com/natgeo
via Travels.Tube - Your travel video feed source!