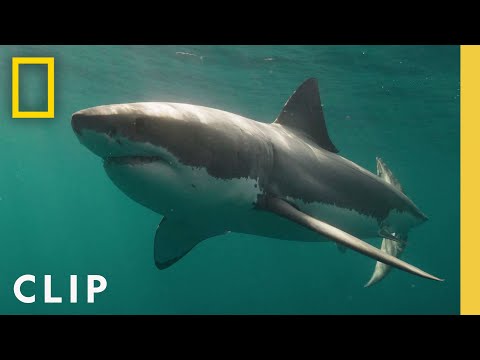 Dr Greg Skomal and his team explore why more White Sharks are being seen in Canadian waters.
If you're looking for the most authentic and comprehensive shark viewing experience ever, look no further than National Geographic's SHARKFEST. Sink your teeth into summer with our 24/7 livestream, the go-to destination for science-first shark content— taking you up close and personal with the ocean's apex predator.
➡ Subscribe:
http://bit.ly/NatGeoSubscribe
#NationalGeographic #SharkBelowZero
About National Geographic:
National Geographic is the world's premium destination for science, exploration, and adventure. Through their world-class scientists, photographers, journalists, and filmmakers, Nat Geo gets you closer to the stories that matter and past the edge of what's possible.
Get More National Geographic:
Official Site:
http://bit.ly/NatGeoOfficialSite
Facebook:
http://bit.ly/FBNatGeo
Twitter:
http://bit.ly/NatGeoTwitter
Instagram:
http://bit.ly/NatGeoInsta
TikTok:
http://www.tiktok.com/@natgeo
Tenor:
http://on.natgeo.com/31b3Koc
Why more White Sharks are pushing north into Canadian waters | Shark Below Zero
https://youtu.be/WR31h83OH7Q
National Geographic
https://www.youtube.com/natgeo
via Travels.Tube - Your travel video feed source!