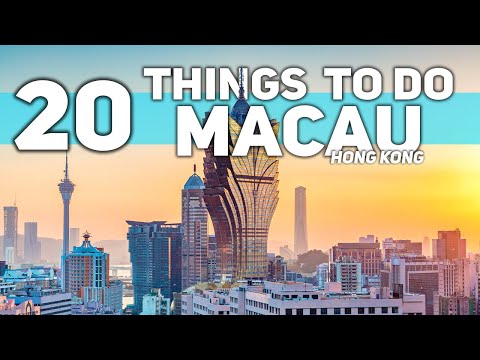 MACAU, CHINA: Are you looking for the best things to do in Macau China? We just created a list of 20 must do activities for you to do while visiting Macau! In this Macau travel guide we show you around the old town of Macau, ruins of St. Paul, Cotai Strip, go to temples, show you the beach, do some hikes and show you the top hotel casinos in Macau.

In this Macau tour we hope to give you insight into Macau sightseeing so that you can enjoy your Macau vacation. Some people refer to it as Macao since the spelling variation is there. So enjoy this Macau vlog and watch more of our travel videos from across Asia.

Things To Do in Macau
(Timestamps)
0:00 Macau Intro
1:13 Wynn Fountain Show
1:43 Cable Car
1:53 City of Dreams
2:18 Londoner
2:46 Venetian
3:17 Monorail
3:37 Cotai Strip
4:15 Galaxy Hotel
4:54 Macau Tower
5:40 Monte Forte
6:13 Taipa Village
6:29 Ruins of St Paul
6:58 Senado Square
7:23 Mandarin's House
8:14 A-Ma Temple
8:51 Giant Panda Pavilion
9:52 MGM Macau
10:18 Pool Day
10:33 Hiking
10:54 Beach Day
11:19 Local Food

Island Hopper TV takes you around the world to the premiere travel destinations. Our virtual travel guides from across America to Asia, Europe and Australia have assisted many world travelers in educating themselves on their next destination to travel or even vacation.


Watch at: https://www.youtube.com/watch?v=SOvYXRsPVEoYouTube