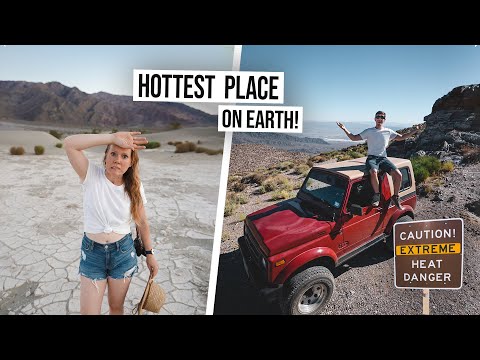 We've parked our lil camper van RV in the hottest place on earth! Come see why summer is the BEST time of year to visit Death Valley National Park! Sure, it's insanely hot, but we nearly had the entire park all to ourselves!

PREVIOUS VIDEO: ▶ RV Trouble In DEATH VALLEY! ☠️ - Was This a HUGE Mistake?? - https://youtu.be/dnUCWmc3lAs

★ ACCESS SECRET VIDEOS & PERKS! ★
Supporters get access to never before seen vlogs and more! ► http://bit.ly/tea-patreon

★ MERCH ★
Get Your T.E.A. Merch!! http://store.theendlessadventure.com

★ MUSIC ★
Access Thousands of FREE Songs for YOUR VIDEOS with Epidemic Sound! http://share.epidemicsound.com/lTZRW

== OUR FILMING GEAR ==
★ Camera - https://amzn.to/3lcXF52
★ Lens - https://amzn.to/3WbgHKl
★ Microphone - https://amzn.to/2KYEMCi
★ Drone - https://amzn.to/3gQqANb
★ GoPro Hero 10 https://amzn.to/3MgT51f
★ Camera Belt Clip - https://amzn.to/2umw0DU
★ Large Tripod - https://amzn.to/34BYvye
★ Small Tripod - https://amzn.to/2u5iZ24

BROWSE ALL OF OUR GEAR ► http://bit.ly/tea-travel-gear

Above are affiliate links which means we receive a percentage of the revenue made from purchasing products via those links.

== Follow Us ==
❤ Twitter - http://twitter.com/the_endless_a
❤ Facebook - https://www.facebook.com/TheEndlessAdventurers/
❤ Instagram - http://instagram.com/theendlessadventure
❤ Travel Blog - http://theendlessadventure.co

== About Us ==
We're Eric & Allison and we're on a journey to find the most interesting places and unique foods this planet has to offer! We've traded in our steady paychecks and permanent home for a life of travel and adventure. Come along and see the world with us!


Watch at: https://www.youtube.com/watch?v=YVeK_EGQrBoYouTube