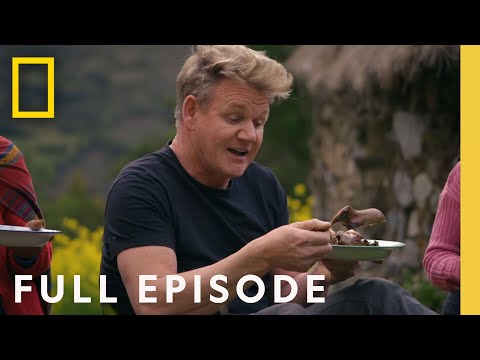 Gordon Ramsay travels by motorbike through Peru's Sacred Valley of the Incas to unlock the secrets of high-altitude cuisine. Immersing himself in local culture, he scales cliffs, fishes in high-altitude lakes, and samples local delicacies – like fried worms, rare multicolored potatoes, and guinea pig – before putting his newfound skills to the test with legendary local chef Virgilio Martinez.
Enjoy a free trial of National Geographic right here:
https://ngmdomsubs.nationalgeographic.com/servlet/OrdersGateway?cds_mag_code=NG9&
;amp;cds_page_id=
➡ Subscribe:
http://bit.ly/NatGeoSubscribe
➡ Get more Nat Geo Full Episodes:
https://youtube.com/playlist?list=PLivjPDlt6ApSiD2mk9Ngp-5dZ9CDDn72O
➡ Get more Nat Geo Wild Full Episodes:
https://youtu.be/qAG2SkTPltw
And check out more National Geographic series and specials here:
➡ Disney Plus:
https://on.natgeo.com/3q6on5p
➡ Hulu:
https://on.natgeo.com/3Qor0Ko
➡ NGTV app:
https://www.nationalgeographic.com/tv/
➡ ABC app:
https://abc.com/
About Gordon Ramsay: Uncharted:
Gordon Ramsay travels the globe on an epic adventure, experiencing new cultures and new cuisines in search of culinary inspiration.
#FullEpisode #GordanRamsayUncharted #NationalGeographic
Get More National Geographic:
Official Site:
http://bit.ly/NatGeoOfficialSite
Facebook:
http://bit.ly/FBNatGeo
Twitter:
http://bit.ly/NatGeoTwitter
Instagram:
http://bit.ly/NatGeoInsta
TikTok:
http://www.tiktok.com/@natgeo
Tenor:
http://on.natgeo.com/31b3Koc
About National Geographic:
National Geographic is the world's premium destination for science, exploration, and adventure. Through their world-class scientists, photographers, journalists, and filmmakers, Nat Geo gets you closer to the stories that matter and past the edge of what's possible.
Peru's Sacred Valley (Full Episode) | Gordan Ramsay: Uncharted
https://youtu.be/4fVjsSiAYZ8
National Geographic
https://www.youtube.com/natgeo
via Travels.Tube - Your travel video feed source!