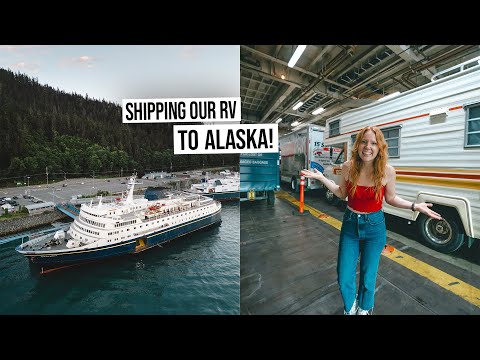 Our vintage camper van is headed for Alaska! But instead of driving the 40+ hours in our RV, we're loading her and our tow vehicle onto the MV Columbia ferry and setting sail on a 3 day cruise from Seattle to southern Alaska on the Alaska Marine Highway! Oh and they sold out of cabins onboard, so we'll be tent camping on the deck of the ship for the entire journey. 🤣 Let the (hopefully) once in a lifetime adventure begin!

PREVIOUS VIDEO: ▶ RV Life On the Road! - Huge Water Leak, Electrical Issues & More Problems 😫 https://youtu.be/_U_3SiF-6Co

★ ACCESS SECRET VIDEOS & PERKS! ★
Supporters get access to never before seen vlogs and more! ► http://bit.ly/tea-patreon

★ MERCH ★
Get Your T.E.A. Merch!! http://store.theendlessadventure.com

★ MUSIC ★
Access Thousands of FREE Songs for YOUR VIDEOS with Epidemic Sound! http://share.epidemicsound.com/lTZRW

== OUR FILMING GEAR ==
★ Camera - https://amzn.to/3lcXF52
★ Lens - https://amzn.to/3WbgHKl
★ Microphone - https://amzn.to/2KYEMCi
★ Drone - https://amzn.to/3gQqANb
★ GoPro Hero 10 https://amzn.to/3MgT51f
★ Camera Belt Clip - https://amzn.to/2umw0DU
★ Large Tripod - https://amzn.to/34BYvye
★ Small Tripod - https://amzn.to/2u5iZ24

BROWSE ALL OF OUR GEAR ► http://bit.ly/tea-travel-gear

Above are affiliate links which means we receive a percentage of the revenue made from purchasing products via those links.

== Follow Us ==
❤ Twitter - http://twitter.com/the_endless_a
❤ Facebook - https://www.facebook.com/TheEndlessAdventurers/
❤ Instagram - http://instagram.com/theendlessadventure
❤ Travel Blog - http://theendlessadventure.co

== About Us ==
We're Eric & Allison and we're on a journey to find the most interesting places and unique foods this planet has to offer! We've traded in our steady paychecks and permanent home for a life of travel and adventure. Come along and see the world with us!


Watch at: https://www.youtube.com/watch?v=1bsvsIJViUUYouTube