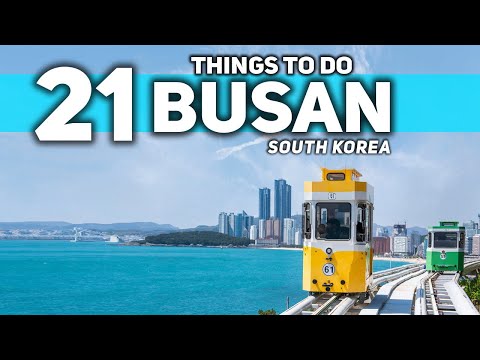 BUSAN, SOUTH KOREA: In this Busan travel guide we show you all around South Koreas 2nd largest city highlighting the best things to do in Busan. These tourist activities include going to Haeundae Beach, Sky X Tower, Gamcheon Cultural Village, Gwangalli Beach, Jagalchi Market, going out for Korean food like Korean BBQ and Soups. South Korea tourism is back to normal and in this Busan travel video you will see just how amazing this city really is as they prepare for Expo 2030.



If you are looking for things to do in Busan and want to know the best tourist places and activities you will get that with this Busan vlog. We show you 21 things to do in Busan and help you know more about the cityscape local food and the shopping districts and more!



Busan South Korea Travel Guide:

(Timestamps)

00:00 BUSAN INTRO

00:30 HAEUNDAE BEACH

01:06 BUSAN X SKY TOWER

02:20 SKY CAPSULES

03:04 SEA LIFE AQUARIUM

04:08 RIDE THE METRO

05:30 GWANGAN BRIDGE

06:07 GWANGALLI BEACH

07:18 SPA LAND CENTRUM CITY

08:58 TEXAS STREET

09:21 SHANGHAI STREET

09:36 LOCAL KOREAN FOOD

10:18 BIFF SQUARE

10:35 JAGALCHI FISH MARKET

11:38 GAMCHEON VILLAGE

12:59 KOREAN HAIR CUT

13:06 GUKJE MARKET

13:48 BOSU BOOK STREET

14:26 BUSAN TOWER

16:42 FASHION STREET

17:01 KOREAN ARCADE

17:49 SELFIE PHOTO STUDIO



Island Hopper TV takes you around the world to the premiere travel destinations. Our virtual travel guides from across America to Asia, Europe and Australia have assisted many world travelers in educating themselves on their next destination to travel or even vacation.


Watch at: https://www.youtube.com/watch?v=Et6WoGeqXZ8YouTube