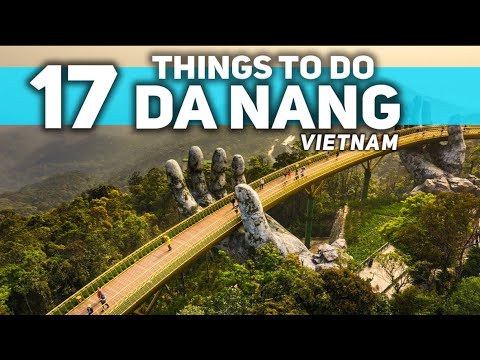 DA NANG, VIETNAM: Are you looking for the best things to do in Da Nang, Vietnam? We just created a list of 17 must do activities for you to do while visiting Da Nang! In this Da Nang travel guide we show you around the Dragon Bridge, Hoi An Ancient Village, Ba Na Hills, Golden Bridge, Lady Buddha and even take a ride on a River Boat. We also show you many Da Nang attractions like the 3D Museums, Cham Sculpture museum and more. There are many museums in Da Nang and several Beaches as well as my favorite area of Marble Mountains. We also made several Vietnam Travel vlogs that includes more of virtual city tour.

I spent a week exploring around Da Nang and would say it was my favorite place in Vietnam to hang out and relax. I also visited Nha Trang, Ho Chi Minh City and Hanoi. Vietnam tourism is back and on the rise again.

Also Watch |
Ho Chi Minh City Travel Guide: https://youtu.be/Mvsa17OMq-I

Best Things To Do in Da Nang 2023
(Timestamps)
0:00 Da Nang Intro
0:25 Dragon Bridge
0:55 Lady Buddha
1:34 Onsen Experience
2:48 Marble Mountains
3:26 Explore The Mined Caves
3:54 Hoi An Ancient Village
4:32 Hoi An Night Market
4:58 Local Food
5:56 Cable Car
6:50 Ba Na Hills
7:56 Golden Bridge
9:15 Beach Day
9:47 Ca Chep Hoa Rong Fountain
10:05 Cho Dem Son Food Street
10:24 River Boat Cruise
10:33 Da Nang Museum of Cham
10:51 3D Art Museum
11:55 Outro

Island Hopper TV takes you around the world to the premiere travel destinations. Our virtual travel guides from across America to Asia, Europe and Australia have assisted many world travelers in educating themselves on their next destination to travel or even vacation.


Watch at: https://www.youtube.com/watch?v=Z8cQDARqiYkYouTube