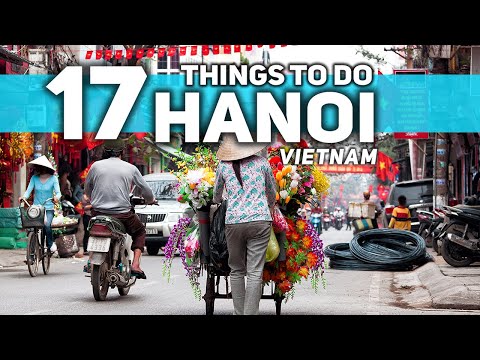 HANOI, VIETNAM: Are you looking for the best things to do in Hanoi, Vietnam? We just created a list of 17 must do activities for you to do while visiting Hanoi. In this Hanoi travel guide we show you all the best attractions around Hanoi, the capital of Vietnam. Showing you the best things to do in Hanoi. These activities include going to Halong Bay, Ninh Binh, Old Quarter, Ho Chi Minh Mausoleum, Beer Street, Sword Lake and local food along with many more Hanoi tourist attractions.

If you're thinking of traveling to Hanoi in 2024, then be sure to check out this travel video! We'll share with you all the best tourist attractions in Hanoi in 2024, so you can make the most of your vacation in Vietnam! I recommend 3 to 4 days in Hanoi exploring the old Quarter and many museums.

Everything You NEED TO KNOW Visiting Vietnam:
https://youtu.be/pm6-ebk0tC0

Best Things To in Do Ho Chi Minh City Vietnam:
https://youtu.be/Mvsa17OMq-I

Best Things To Do in Hanoi Vietnam 2024 4K
(timestamps)
0:00 Hanoi Intro
0:27 Tran Quoc Pagoda
0:43 Ho Chi Minh Mausoleum
1:08 Local Food
2:14 Old Quarter
2:53 Hanoi Train Street
3:26 Beer Street
4:46 Ninh Binh
5:03 Ha Long Bay
5:19 Temple of Literature
5:53 Water Puppet Show
6:06 Spa- Massage- Haircut
6:28 Vietnamese Womens Museum
7:26 Hoan Kiem (Sword Lake)
8:11 Dong Xuan
9:05 Hanoi Opera House
9:30 Vietnam History Museum
9:45 Cyclo

Island Hopper TV takes you around the world to the premiere travel destinations. Our virtual travel guides from across America to Asia, Europe and Australia have assisted many world travelers in educating themselves on their next destination to travel or even vacation.


Watch at: https://www.youtube.com/watch?v=YcSIbqLYqT8YouTube