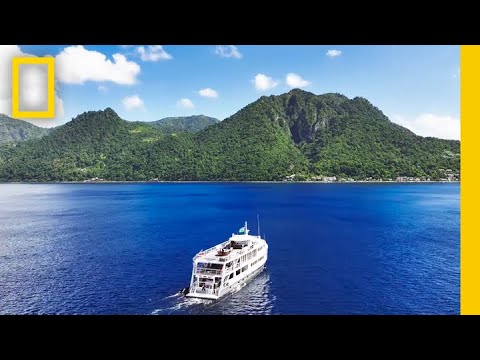 After the harrowing experiences of Hurricane Maria in 2017, Dominica committed to transforming the island into the world's first climate resilient nation. Dominica: The Nature Island (2023) follows the National Geographic Pristine Seas team as they partner with local leadership to conduct the first full-island survey of the marine ecosystems around the island. The scientific results from the international team's weeks of work will help inform the Dominican government and its people in their resilience planning to ensure their marine environment's irreplaceable assets continue to sustain the well-being of many generations of Dominicans.
➡ Subscribe:
http://bit.ly/NatGeoSubscribe
#NationalGeographic #PristineSeas
About National Geographic Pristine Seas:
National Geographic Pristine Seas is an exploration, research and media project founded and led by National Geographic Explorer in Residence Enric Sala. The Pristine Seas team is comprised of determined scientists, policy experts and filmmakers who work to inspire the creation of protected areas where marine life can thrive—while ensuring effective management for years to come. Pristine Seas has helped to inspire the creation of 26 marine reserves, an area totalling over 6.5M square kilometers. Learn more at nationalgeographic.org/pristineseas.
Learn more about Pristine Seas here:
https://on.natgeo.com/2VA8HEk
About National Geographic:
National Geographic is the world's premium destination for science, exploration, and adventure. Through their world-class scientists, photographers, journalists, and filmmakers, Nat Geo gets you closer to the stories that matter and past the edge of what's possible.
Get More National Geographic:
Official Site:
http://bit.ly/NatGeoOfficialSite
Facebook:
http://bit.ly/FBNatGeo
Twitter:
http://bit.ly/NatGeoTwitter
Instagram:
http://bit.ly/NatGeoInsta
TikTok:
http://www.tiktok.com/@natgeo
Tenor:
http://on.natgeo.com/31b3Koc
Dominica: The Nature Island (2023) | Pristine Seas | National Geographic Society
https://youtu.be/w6LbXiiJ_Ww
National Geographic
https://www.youtube.com/natgeo
via Travels.Tube - Your travel video feed source!