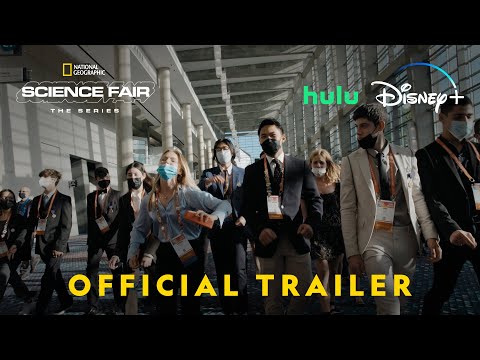 Inspired by the Sundance Festival favorite and SXSW Audience Award-winning documentary directed by Cristina Costantini and Darren Foster, SCIENCE FAIR: THE SERIES showcases students working to solve the world's most complex and pressing issues using science while competing for a coveted spot at the International Science and Engineering Fair (ISEF), the most competitive science fair on the planet. The series also follows the families and teachers, including SCIENCE FAIR fan-favorite Dr. Serena McCalla, as they support and push their students along the way. It's an inspiring, character-driven coming-of-age story playing out on a global stage where students push themselves to the limit but never miss an opportunity to uplift one another. All episodes premiere Dec. 10 starting at 9/8c on National Geographic, stream next day on Disney+ and Hulu.
Enjoy a free trial of National Geographic right here:
https://ngmdomsubs.nationalgeographic.com/servlet/OrdersGateway?cds_mag_code=NG9&
;amp;cds_page_id=
➡ Subscribe:
http://bit.ly/NatGeoSubscribe
And check out more National Geographic series and specials here:
➡ Disney Plus:
https://on.natgeo.com/3q6on5p
➡ Hulu:
https://on.natgeo.com/3Qor0Ko
➡ NGTV app:
https://www.nationalgeographic.com/tv/
➡ ABC app:
https://abc.com/
#NationalGeographic #ScienceFair
About National Geographic:
National Geographic is the world's premium destination for science, exploration, and adventure. Through their world-class scientists, photographers, journalists, and filmmakers, Nat Geo gets you closer to the stories that matter and past the edge of what's possible.
Get More National Geographic:
Official Site:
http://bit.ly/NatGeoOfficialSite
Facebook:
http://bit.ly/FBNatGeo
Twitter:
http://bit.ly/NatGeoTwitter
Instagram:
http://bit.ly/NatGeoInsta
TikTok:
http://www.tiktok.com/@natgeo
Tenor:
http://on.natgeo.com/31b3Koc
Science Fair: The Series | Official Trailer | National Geographic
https://youtu.be/KNZstIT0wXU
National Geographic
https://www.youtube.com/natgeo
via Travels.Tube - Your travel video feed source!